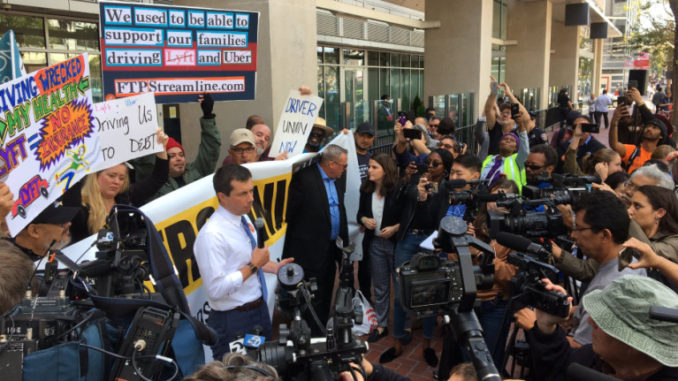 Reprinted from Gizmodo by Bryan Menegus on August 29, 2019.
To a steady beat of whistles, car horns and "AB5 and a union!" hundreds of rideshare drivers amassed outside Uber's corporate headquarters in San Fransisco on Wednesday. For over an hour, Market Street slowed to a crawl, choked by the cars of for-hire vehicle drivers.
The Market Street shutdown is just the latest stop in a three-day protest caravan across California in the US advocating for the passage of the aforementioned Assembly Bill 5. Introduced by US Assemblywoman Lorena Gonzalez in January, AB5 is seen by proponents as a kill-shot against the gig economy practice of classifying workers as independent contractors. It's a convenient arrangement for companies like Uber and Lyft, which don't have to provide benefits like health insurance and overtime pay, while passing fuel and vehicle wear costs onto drivers themselves.
Editor's Note: While AB5 is a proposed American bill, the outcome of its passing may have an impact on the gig economy in Australia, and the push for more protection for independent contractors.
In a true contractor relationship, workers have a considerable degree of autonomy over the work they provide. But as California's Supreme Court and AB5 argue, the evidence gig workers possess this freedom — when platforms essentially dictate when and how they perform their work, and have the ability to fire them through deactivation at any time for any reason — is sorely lacking. …