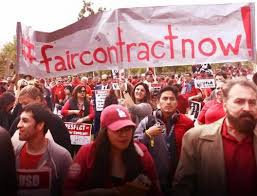 Reprinted from The Los Angeles Times by Howard Blume on January 10, 2019.
A Los Angeles County Superior Court judge Thursday cleared the path for a Los Angeles teachers' strike to start Monday.
At issue was whether the union, United Teachers Los Angeles, gave a legally required 10-day notice to the school district that its members would no longer work under terms of the previous contract. This notice provision is included in the contract between the union and the L.A. Unified School District. …
Why 30,000 Los Angeles Teachers are Ready to Strike Over Huge Class Sizes
Reprinted from The Washington Post by Valerie Strauss on January 10, 2019.
"It makes intuitive sense that smaller class sizes would make it easier for teachers to address the needs of each student, yet sometimes we hear from very important people — former education secretary Arne Duncan and Microsoft founder Bill Gates among them — that it doesn't matter to a great teacher," writes Valerie Strauss in The Washington Post. "Actually, research clearly shows that it matters — a lot.
"A review of the major research published a few years ago found, among other things:
· "Class size is an important determinant of student outcomes and one that can be directly determined by policy. All else being equal, increasing class sizes will harm student outcomes. …