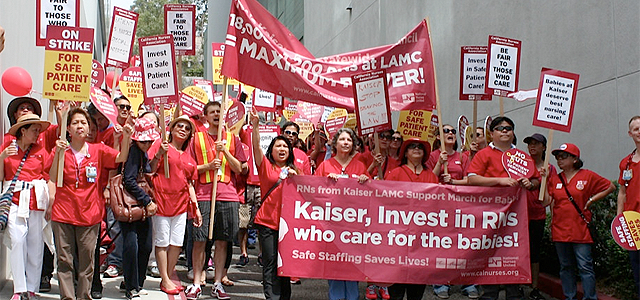 Reprinted from The Los Angeles Times by Nina Agrawal on February 17, 2017.
Nurses at the Los Angeles Medical Center are set to get a pay raise, overtime protections and more professional support under the terms of a tentative collective bargaining agreement struck Thursday.
In reaching the agreement, the California Nurses Association, the union representing 1,200 registered nurses employed at the hospital, and Kaiser Permanente, which owns the Hollywood facility, ended 17 months of contract negotiations that included two short-term strikes.
"The nurses felt relieved that all of the issues and concerns that they have raised across the table have now gotten to fruition," said the union's co-president and bargaining team chair, Zenei Cortez.
A spokeswoman for Kaiser Permanente confirmed in an email that the healthcare provider reached a deal and said it would wait until the agreement was approved before releasing further details. …