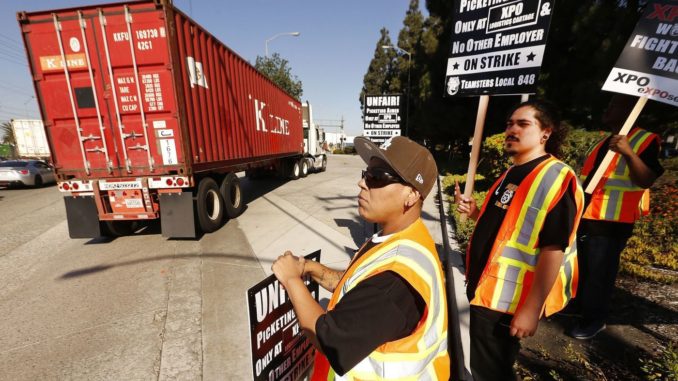 Reprinted from The Los Angeles Times by Samantha Masunga on October 1, 2018.
Truck drivers and warehouse workers who serve the ports of Los Angeles and Long Beach began striking Monday morning in front of warehouses serving the ports, protesting the classification of drivers as independent contractors.
A primary picket line formed at 7 a.m. in front of XPO Logistics Inc. facilities in Commerce and San Diego and an NFI Industries Inc. location in Wilmington, said Barbara Maynard, spokeswoman for the Justice for Port Drivers campaign that is supported by the International Brotherhood of Teamsters.
By 7:40 a.m., workers were also starting to demonstrate at customer and distributor warehouses, including Toyota's facility in Long Beach, Puma in Torrance and Amazon in Moreno Valley, Maynard said.
The strike has had no effect so far on cargo flow, said Rachel Campbell, spokeswoman for the Port of Los Angeles. XPO Logistics said it didn't expect any effect on customers or day-to-day operations. …