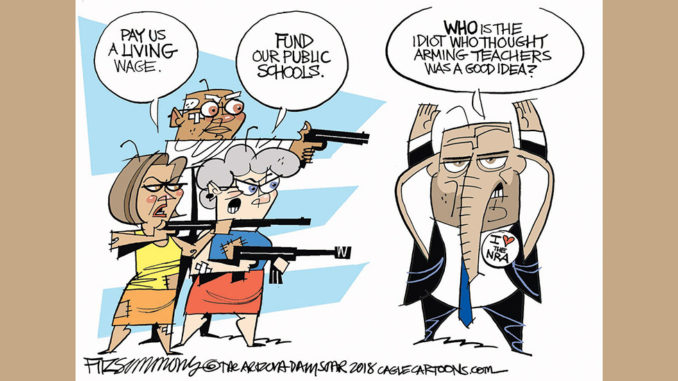 compiled by Jeff Burman
In a ruling that could change the workplace status of people across the state, the California Supreme Court made it harder in late April for employers to classify their workers as independent contractors, write Maura Dolan and Andrew Khouri in the Los Angeles Times. The court put the burden on California employers to prove a worker is an independent contractor, adds the Associated Press.
To do this, the company would have to pass each part of a three-part test to prove a worker is an independent contractor: "The worker is free of control and direction, the work is outside the course of business for which the work is performed, and the worker is engaged in an independently established trade or occupation."
"It seems like a seismic shift," said Veena Dubal, professor at University of California, Hastings College of Law. "I'm pretty floored by this decision."
Trump Pulls Protections for Women Workers
With little fanfare, President Donald Trump signed an executive order in late March that advocates say rolls back significant victories for women in the workplace, writes Mary O'Hara for NBC News.
Trump revoked the 2014 Fair Pay and Safe Workplaces executive order that then-President Barack Obama put in place to ensure that companies with federal contracts comply with 14 labor and civil rights laws. The Fair Pay order was put in place after a 2010 Government Accountability Office investigation showed that companies with frequent violations were being awarded millions in federal contracts.
Preventing the worst violators from receiving taxpayer dollars, the Fair Pay order included two rules that directly impact women workers: paycheck transparency and a ban on forced arbitration clauses for sexual harassment, sexual assault or discrimination claims.
DOJ May Rescind Disabilities Protections
When President George H.W. Bush signed the Americans with Disabilities Act into law in July 1990, he said, "Let the shameful wall of exclusion finally come tumbling down." But almost 28 years later, that wall may be back, writes Ariana Marini in Endocrinology Advisor in April.
In December 2017, the Department of Justice  ruled to formally withdraw four Advance Notices related to Titles II and III of the Americans with Disabilities Act. The withdrawals included rulemaking that made medical equipment and furniture, such as examination tables, scales and mammogram equipment, accessible to individuals with disabilities.
The DOJ has been "re-evaluating whether regulation of…equipment and furniture is necessary and appropriate," according to the withdrawal document.
In the United States, 53 million adults have a disability, according to the Centers for Disease Control and Prevention. Many Americans have "mobility limitation," which involves difficulty walking or climbing stairs and is the most common functional disability type, affecting one in eight adults, according to Marini.
Minimum Wage Study Finds Significant Gains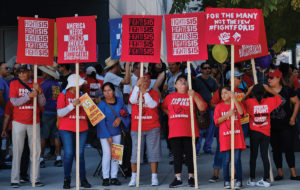 A new study on the effects of the minimum wage confirms previous research that found the policy raises wages for low-income workers without reducing total employment, writes Cody Fenwick in AlterNet. The study was done by Kevin Rinz and John Voorheis of the US Census Bureau. It used data from the Census Bureau, which surveys more than 75,000 households.
Tyler Cowen, a conservative economist, writes that he has "long been critical of policies like the minimum wage," and while the new study "hasn't made him a believer…he does acknowledge that the new research is 'thorough and detailed.'"
"On the pro-minimum wage side," writes Cowen in Marginal Revolution, "you should consider that those immediately affected by the wage hike do seem better off, and their higher income in the meantime may itself bring some efficiency-enhancing gains."
In light of the study, Fenwick believes that "an increased minimum wage is almost certainly not enough. Workers need a range of new protections, like labor union protections and a greater ability to sue their employers, to dampen the power that businesses wield over them."
CA Health Giant Sued Over High Costs
California's attorney general sued Sutter Health, accusing the hospital giant of illegally suppressing competition and for years overcharging consumers and employers, write Chad Terhune and Ana Ibarra in The Washington Post.
The lawsuit marked a daring move by state Attorney General Xavier Becerra against the biggest health care system in Northern California as concerns grow nationally about consolidation among hospitals, insurers and other industry middlemen.
"It's time to hold health-care corporations accountable," Becerra said at a news conference in April. "We seek to stop Sutter from continuing this illegal conduct."
How Corporate Tax Cuts Benefit Corporations
"Corporate tax cuts will put billions of dollars back in the hands of businesses this year," writes Justin Wolfers in The New York Times in late March. "Naturally, people want to know how those businesses will spend it. But the answer doesn't really matter, at least not for understanding whether the tax cuts were a good idea.
"That's because the economic case for corporate tax cuts has almost nothing to do with what corporations do with the extra cash. Economists generally recognize that corporate tax cuts have two quite distinct effects.
"First, a tax cut increases the incentive to invest. A lower corporate tax rate gives investors in a new factory a larger share of the income that factory generates. And that, in turn, leads more investment projects to pass the cost-benefit test that tells a company whether it's worth building the factory in the first place.
"This incentive effect drives most economic models of investment, and few economists debate its underlying logic, although there's considerable debate as to whether it will yield a large or small increase…"
Bangladesh Safety Supervision Not Prepared
Five years after a factory collapse killed 1,100 workers in Bangladesh's worst industrial disaster, organizations representing Western brand-name manufacturers say that authorities there aren't up to the task of ensuring safety standards, writes Jon Emont in The Wall Street Journal in late March.
Shortly after the Rana Plaza tragedy, North American and European retailers set up two parallel organizations to inspect Bangladeshi factories and order safety repairs. Both groups expected to phase out in 2018. Instead, the Bangladesh Accord on Fire and Safety, backed by European brands, has announced plans to extend its efforts for up to three more years.
On the other hand, the Alliance for Bangladesh Worker Safety, which includes North American companies such as Walmart Inc. and Gap Inc., will wind down its operations this year. It plans to establish a smaller safety-monitoring group to ensure that factories from which the Alliance's brands source are already up to code and continue to maintain current inspection protocols.
AMPAS Dismisses Allegations Against Bailey
The Academy of Motion Picture Arts and Sciences has dismissed allegations of sexual harassment against its president, John Bailey, ASC, writes Gene Maddaus in Variety.
"The Committee unanimously determined that no further action was merited on this matter," the Academy said in late March. "The findings and recommendations of the committee were reported to the Board, which endorsed its recommendation. John Bailey remains President of the Academy."
The Academy also corrected earlier reporting that it had received three complaints, saying that only one was submitted.
In a related development in early May, the Academy's Board of Governors voted to expel actor Bill Cosby and director Roman Polanski from its membership ranks, write Kristopher Tapley and Maddaus in Variety. The Academy also noted the resignation of producer and former studio executive Bill Mechanic from its board of governors in mid-April, write Glenn Whipp and Josh Rottenberg in the Los Angeles Times. Mechanic opposed efforts to reshape the organization with an eye toward diversity, calling it a "fractured environment."
CA Student Athletes Should Be Able to Organize
The perennial debate over whether the NCAA is taking financial advantage of its amateur athletes has been taken up on California's legislative agenda, writes Alexei Koseff in The Sacramento Bee in late March.
Assemblyman Chris Holden (D-Pasadena) announced a measure to loosen restrictions on professionalism in college sports; Assembly Bill 2747 would give California student athletes the right to organize and allow them to earn money from commercial sponsorships.
"College athletes are currently playing in an exploitative situation," Holden said. "They are forced to pursue a higher education without the same rights or financial freedoms as any of the other students on campus."
Gamers Eye Unionization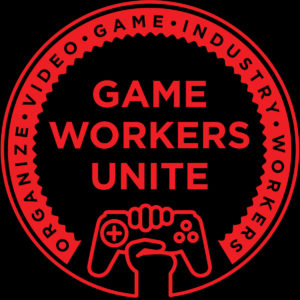 Thousands of game industry professionals gathered in San Francisco's Moscone Center in March to attend the annual Game Developers Conference (GDC), writes Chloi Rad in IGN (Imagine Games Network). Panels on game design, business and culture filled the daily lineup of talks and meetups, but one roundtable reignited a running conversation on one of the industry's most important questions: Should game developers unionize?
The answer, according to attendees, was a resounding Yes.
Jen MacLean, executive director of the International Game Developers Association (IGDA) moderated the roundtable, called "Union Now? Pros, Cons and Consequences of Unionization for Game Devs."
Earlier, there was tension in the room. Interviews published on websites like Kotaku and USGamer had looked into MacLean's stance on unionization — said to be a lukewarm caution that stood in contrast to the passionate pro-union feeling expressed by most roundtable attendees at the hour-long gathering. MacLean later clarified in an interview with ZAM that if game developers were to unionize, she would back them.
CA Assembly Moves Toward Universal Health Coverage
California Assembly Speaker Anthony Rendon (D-Los Angeles 63rd District) has refused to advance a controversial single-payer health-care bill that would significantly reshape the state's health-care financing and delivery system, write Angela Hart and Taryn Luna in The Sacramento Bee. Alternatively, Rendon is laying out a narrower approach that would move toward universal coverage and make Obamacare more affordable.
Earlier, Rendon gave lawmakers "autonomy to come up with a package" of health care bills. In late March, the Assembly unveiled a major body of legislation on health care that would expand coverage and lower consumer costs, financed by taxpayers.
Assembly lawmakers released 14 bills that would offer financial assistance to people struggling to pay for increasing insurance premiums and out-of-pocket costs, require health insurers to spend more on patient care instead of profits, create a public insurance option and offer health coverage to undocumented immigrants, add Hart and Luna.
NY Labor Council Elects First Woman President
The Central New York Labor Council has elected its first woman president in over 150 years, writes Jim Rondenelli for radio station WIPX 950AM.
Samantha DeRiso was elected to the post in February following the retirement of outgoing President Patrick Costello. DeRiso is a 30-year employee of the United Food and Commercial Workers Union.
"It is an honor to be elected to hold this position and continue working with our affiliated union brothers and sisters to make a difference in the workplace," said DeRiso.