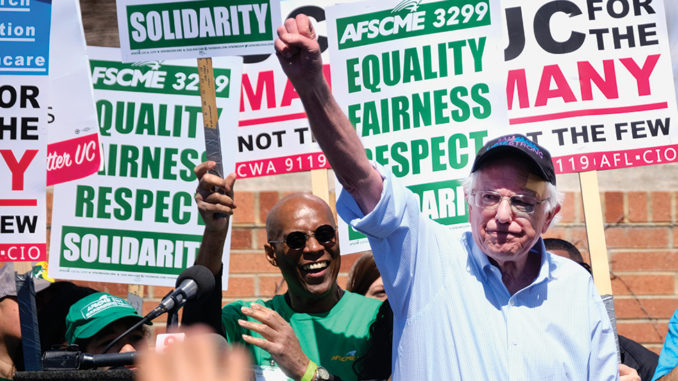 compiled by Jeff Burman
Presidential candidate Senator Bernie Sanders (D-Vermont) announced in early April that if elected, he would ban so-called right-to-work laws. Slightly more than half of US states currently have laws on the books banning unions from negotiating contracts that require all members who benefit from a union contract to pay dues.
Sanders also reminded Wisconsin voters that unions matter. In April, he referred to the legal changes championed by former Wisconsin Governor Scott Walker, who was defeated for re-election in November.
"These guys want to return us to the 1920s, when working people had virtually no rights to organize or to earn a decent living," explained Sanders, who argued, "There are a lot of folks out there who say, 'It doesn't impact me, I'm not a union guy, I'm not a teacher, I'm not a civil servant.' Let me tell you how it does matter to you. Wages are going down in this country for everybody. When you destroy unions there will be no standard at all, nobody left to negotiate decent jobs for the middle class."
He also distanced himself from the pack of other 2020 candidates in late March by refusing to support House Speaker Nancy Pelosi's (D-San Francisco) call to incrementally strengthen the Affordable Care Act, according to Sydney Ember in The New York Times. "The incremental reform that I support is phasing in 'Medicare for all,'" he said.
Sanders further distinguished himself by standing with striking UCLA workers in March and speaking during their single-day strike, writes Arik Schneider in Campus Reform.
The senator stressed the significance of labor unions for just over 10 minutes in front of a crowd of several hundred striking workers, supporters and students at a rally held by the University Professional and Technical Employees-Communications Workers of America, according to UCLA's The Daily Bruin.
IATSE Locals Elect New Leadership
Leaders of three Hollywood IATSE locals have not been re-elected, writes David Robb in Deadline Hollywood. Steven Poster, ASC, president of Local 600, the International Cinematographers Guild (ICG), was defeated by digital imaging technician Lewis Rothenberg. In addition, Ed Brown, longtime business agent of Local 44, lost his bid for re-election, while Leslie Simon's contract as business representative for Local 871 was not renewed. Local 44's president Michael Diersing also lost his re-election race.
The ICG represents 8,600 members and is the IA's largest West Coast local. Rothenberg pledged to mend fences with Local 700 and revisit areas of common interest.
Local 871, which represents more than 2,300 script supervisors, continuity and art department coordinators, accountants and writers' assistants, agitated for a pay equity movement, which seeks to raise the salaries of those employed in Hollywood's historically female crafts.
Prop Local 44, with more than 7,000 members, is one of Hollywood's largest IA locals. Its newly elected business agent is Tobey Bayes, a former Local 44 assistant business agent. The local's new president is Dutch Merrick, a member of its executive board.
Hollywood Writers Fire Agents
At press time, the Writers Guild of America West announced that 7,000 of its 8,800 current members had fired their agents for refusing to sign the WGA's "Code of Conduct." The code prohibits packaging fees and affiliate productions, which generate significant revenue streams not shared with the writers. The WGA sued the four biggest agencies, seeking to halt these fees in court.
The guild also sent a letter to its members saying that the WGA itself will reimburse managers and attorneys who have replaced their agents "if the manager or attorney would otherwise go unpaid because of a violation of the California Talent Agencies Act."
Writers were asked to fire their agents on April 12, after negotiations with the Association of Talent Agents failed to reach an acceptable agreement.
The WGA told its members in late April that it remains "willing to negotiate," but stressed that "this may not happen until the pressure increases."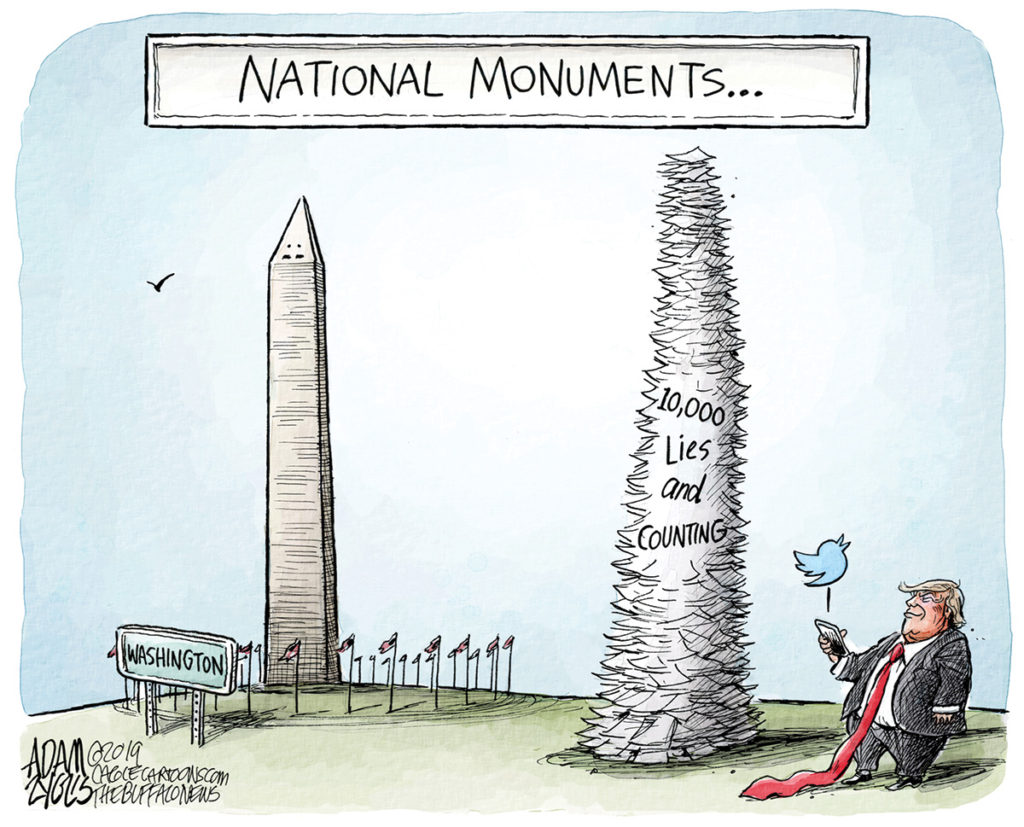 Trump Lies Surpass 10,000
The Washington Post has undertaken a mammoth project to evaluate President Donald Trump's credibility. Glenn Kessler, Salvador Rizzo and Meg Kelly have kept a running tally of the president's lies since his inauguration. From January 20, 2017 to April 27, 2019, Trump told a whopping 10,111 lies in 828 days. What did he say?
The noise from wind turbines causes cancer. The southern border wall is already being built. Mothers, in consultation with their doctors, execute their children. "Bold, deranged lies," writes Bess Levin in Vanity Fair.
Trump's pathological lying is only getting worse. After telling a mere 5,000 "misleading statements" during his first 601 days in office, the pace of his lies "has accelerated such that he doubled his bullshit in just a third of the time," adds Levin, telling about 23 lies a day in the seven months beginning in late October.
Stop & Shop, Strike & Win
The United Food and Commercial Workers Union, representing 31,000 striking Stop & Shop workers, declared victory on April 21 after it reached a tentative agreement with management to increase wages and preserve employee benefits that were under threat.
Senator Elizabeth Warren (D-Massachusetts), a 2020 presidential candidate, joined other candidates who supported striking grocery workers on the picket line. She told strikers, "Unions will fight back because when you're fighting for your family…you stay in the fight until you win."
The deal brings to an end the largest private-sector strike in years. It lasted 11 days and spanned three New England states. As The Boston Globe reported, "Visits to the grocery chain by regular customers dropped by a whopping 75 percent" in the first few days of the walkout.
The union confirmed the contract was ratified "overwhelmingly" on May 2.
NLRB Delivers Blow to Union Firms
A company that takes over a unionized workplace and tries to avoid its bargaining obligations by not hiring some of the previous employer's workers no longer has to follow the labor deal that was previously in place, writes Robert Iafolla in Bloomberg News.
In April, the National Labor Relations Board's Republican members overturned a Clinton-era decision that said successor employers that discriminate in hiring to avoid bargaining duties can't set their own initial terms of employment. Now companies can avoid this if they say they're going to keep all of a predecessor's workers.
Discriminatory hiring practices used after a company acquires a unionized operation is a "not infrequent occurrence," said William Gould, a former NLRB chairman who was involved in the 1996 ruling that the board overturned.
Elizabeth Warren Wants to Fix Capitalism
"Bill Clinton had a consequential presidency when it came to the economy," according to The New York Times' David Leonhardt in mid-March. "He brought down the Reagan-era deficits, helping spark the strongest economic boom in decades and he made the tax code more progressive.
"Barack Obama had an even more consequential presidency," Leonhardt continues. "He halted the worst financial crisis since the Great Depression. He did so in part by signing a stimulus bill full of spending on education, wind energy and other programs with lasting benefits. He also put in place new regulations for Wall Street and extended health insurance to almost 20 million people. Yet for all that both men accomplished, neither changed the fundamental direction of the American economy…
"So far, only one candidate among the 2020 contenders has an agenda with this level of ambition: Elizabeth Warren. Her platform aims to reform American capitalism so that it once again works well for most American families. The recent tradition in Democratic politics has been different. It has been largely to accept that big companies are going to get bigger and do everything they can to hold down workers' pay…"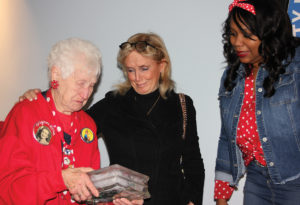 Union Marks Women's History with Real 'Rosie the Riveter'
When Local 223 of the Utility Workers Union of America (UWUA) planned a Rosie the Riveter event in Dearborn, Michigan, little did they know a real Rosie would be there, writes Sue Suchyta for The Press and Guide.
The event, held March 22, featured a real-life Rosie the Riveter — 93-year-old Helen Kushnir — who lives about a mile from the union hall, and had riveted center wing assemblies for the Curtis SBC2 Helldiver Navy aircraft in 1944, at the height of World War II.
Kushnir was presented with an honorary plaque by US Representative Debbie Dingell (D-Michigan 12th District) and union officer Juanita Ray.
McDonald's Relents on Minimum Wage Hikes
After years of strikes, lawsuits and devastating public scrutiny of how fast food's business model uses taxpayer-subsidized poverty wages, McDonald's officially withdrew its strategy to block federal minimum wage hikes in late March, according to Alan Pyke in Think Progress.
The chain will also stop its efforts against minimum wage increases at state and local levels, it told lobbying partners at the National Restaurant Association in a letter.
Global Box Office Hits Record $41B
A boom at the US box office saw worldwide ticket sales hit a record $41.1 billion in 2018, a slight year-over-year gain, according to the Motion Picture Association of America's annual report released on March 1, writes Pamela McClintock in The Hollywood Reporter.
Revenues from North America and Canada came in at a record-breaking $11.9 billion — a big seven percent spike over 2017 — while attendance was up five percent. Foreign box office tallied $29.2 billion, a slight drop from 2016 that marked the first decline in recent memory, even though it was slight.
100 Greatest Films Directed by Women
"For as long as there have been movies, there have been women making them," write a long list of contributors to IndieWire in late February, namely Christian Blauvelt, Eric Kohn, Anne Thompson, Kate Erbland, David Ehrlich, Chris O'Falt, Jude Dry, Tom Brueggemann, Bill Desowitz, Tambay Obenson, Michael Nordine and Zack Sharf.
"When the Lumière brothers were shocking audiences with their unbelievable depiction of a running train, Alice Guy-Blaché was pioneering her own techniques in the brand new artform," they explain. "When D.W. Griffith was pioneering advances in the art, and building his own studio to make his work, Lois Weber was doing, well, the exact same thing. When Hollywood was deep in its Golden Age, Dorothy Arzner, Dorothy Davenport, Tressie Souders and many more women were right there, making their own films. It's not even a trend that really abated because it was never a trend. For so long, women being filmmakers was simply part of the norm."
The entire list can be found at www.IndieWire.com2019/02/female-directors-best-movies-directed-by-women-1202045399/. The top ten chosen films follow:
10. Daughters of the Dust (Julie Dash, 1991)
9. Seven Beauties (Lina Wertmüller, 1976)
8. Meshes of the Afternoon (Maya Deren, 1943)
7. Cléo from 5 to 7 (Agnes Varda, 1962)
6. Lady Bird (Greta Gerwig, 2017)
5. Daisies (Vera Chytilova, 1966)
4. A League of Their Own (Penny Marshall, 1992)
3. The Piano (Jane Campion, 1993)
2. Beau Travail (Claire Denis, 1999)
1. Jeanne Dielman, 23 Quai du Commerce, 1080 Bruxelles (Chantal Akerman, 1975)