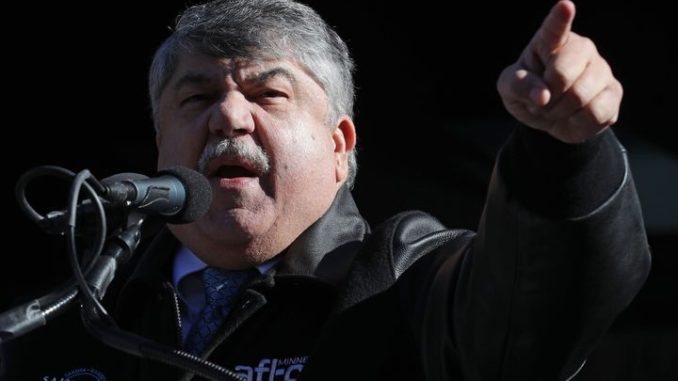 Reprinted from WNCT TV Channel 9 by Julian Resendiz on January 17, 2020.
Despite some optimism from the White House and the business community, labor union leaders refuse to back the US-Mexico-Canada Agreement.
The USMCA would replace the existing North American Free Trade Agreement, which predates e-commerce and has been criticized for shortcomings in environmental and labor protections.
"The new NAFTA is not a policy we support at this time," said Liz Shuler, secretary-treasurer of the AFL-CIO, during a visit to El Paso last week. "The lack of enforcement, the lack of resources committed by the country of Mexico are not adequate. … As we stand now, NAFTA 2.0 does not have the assurances we need for fair trade policies that work for the working people."
Earlier, AFL-CIO President Richard Trumka had been more blunt, saying Mexico maintains cheap wages by using "sham" labor unions that sign off on whatever deal a corporation brings to the table.
"If Mexico cannot enforce its own laws, then this agreement will never work because their wages will be artificially low. They will suck jobs and capital out of the United States," Trumka told Bloomberg last month. His comments came after President Trump boasted that the USMCA "has become very popular, unions are liking it, farmers are loving it and manufacturers are really liking it." …
Senate Approves Trump Trade Deal with Canada, Mexico
Reprinted from The Hill by Sylvan Lane on January 16, 2020. 
The Senate overwhelmingly passed a bill to implement President Trump's proposed update to the North American Free Trade Agreement (NAFTA) after a mad dash to clear the measure before impeachment proceedings paralyze the chamber.
Senators voted 89-10 to pass a bill ratifying Trump's US-Mexico-Canada Agreement (USMCA), sending the measure to the president for his final sign-off. USMCA's passage marks another milestone for Trump just one day after he cemented a preliminary trade deal with China.
"Today the Senate will send this landmark agreement to the president's desk," said Senate Majority Leader Mitch McConnell (R-Kentucky) ahead of the vote. "Quite a week of substantive accomplishments for the nation, for the president, and for international trade." …
Senator Bernie Sanders (I-Vermont) was the sole Democratic presidential candidate to vote against USMCA, calling on Trump to "fundamentally rewrite" the 1994 agreement. …
Mexico Union Threatens Home Depot Strike, Inspired by USMCA Trade Deal
Reprinted from The New York Times by Reuters on January 15, 2020.
Spurred on by labor protections in the new North American trade deal, a top Mexican trade union has accused Home Depot of blocking union activity and threatened strikes next week if the US home improvement chain does not improve pay and benefits for workers.
The Revolutionary Confederation of Laborers and Farmworkers, or CROC, is pressing for a 20% raise, benefits such as 20 annual vacation days and more contributions toward transportation, school supplies, food and savings funds.
The union also is urging the company to end discrimination, sexual harassment and unfair dismissals, which it says have been reported to the union and labor councils. …