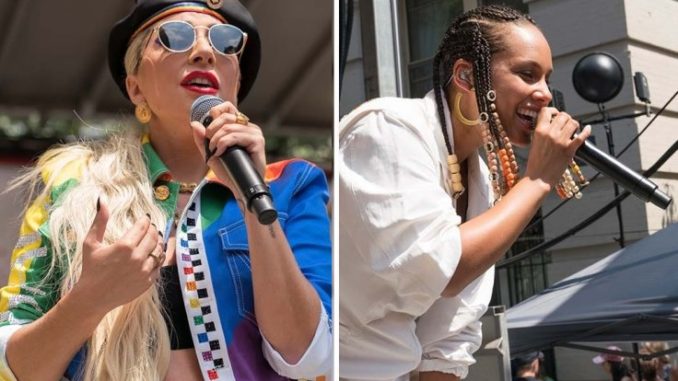 Reprinted from The Hollywood Reporter by Evan Real on June 28, 2019.
On Friday afternoon, thousands of New Yorkers braved the heat and descended upon Christopher Street to honor the 50th anniversary of the Stonewall Inn riots right outside the iconic West Village landmark.
Celebrating World Pride Week and the queer pioneers who threw the first proverbial bricks in the LGBTQ community's fight for equality, a crowd covered in sweat, glitter and rainbow-colored clothing took in Pride Live's Stonewall Day Concert — which featured appearances from musicians, actors, models and more who are either part of the community or fierce allies.
The event — hosted by Elvis Duran, iHeartMedia New York's Z100 and 103.5 KTU, with support from GLAAD — included a powerful number from gender nonconforming pop star Alex Newell, along with touching speeches and tributes from Geena Rocero, Blossom Brown, Chelsea Clinton, former Obama adviser Valerie Jarrett, Josephine Skriver, Wilson Cruz, Donatella Versace, Whoopi Goldberg and Pose stars Angelica Ross and Ryan Jamaal Swain, among others. Famous faces, including Christian Siriano, Andy Cohen, Asia Kate Dillon, Don Lemon and Frankie Grande, also filled the VIP section. …
Why the World Pride Parade and LGBTQ Awareness Matter to the Guild
"This year marks the 50th anniversary of the Stonewall Riots, and this weekend will bring the World Pride Parade in New York City," writes Guild Executive Director Cathy Repola in CineMontage.
"I will proudly march with members of Local 700, alongside a full contingent of IATSE members from the vast number of crafts within the union. In Los Angeles earlier this month, members of Local 700 marched alongside other IA members, for the first time under the Guild banner in any gay pride parade.
"These monumental steps have come about because of IA members willing to stand up for a cause with great meaning to many of our members. …