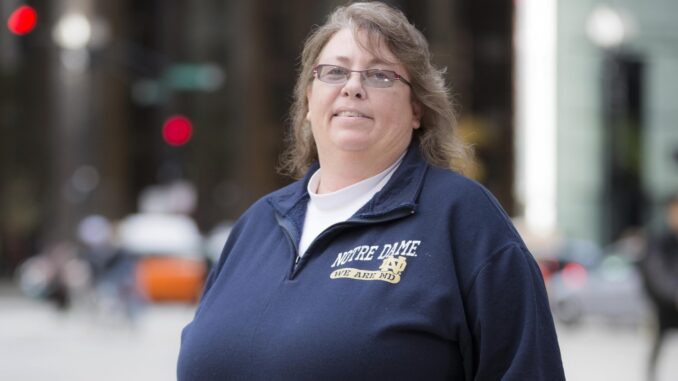 Reprinted from the LGBT Weekly by Steve Lee on April 5, 2017.
In a groundbreaking, 8-3 decision, the full Seventh Circuit Court of Appeals ruled Tuesday that workplace discrimination based on sexual orientation violates federal civil rights law. The court found that such discrimination is a form of sex discrimination in violation of Title VII of the Civil Rights Act of 1964, the federal law prohibiting employers from discriminating against employees on the basis of sex, race, color, national origin, and religion. The decision—which came in Lambda Legal's case on behalf of Kimberly Hively, an instructor at Ivy Tech Community College who was fired for being a lesbian—makes the Seventh Circuit the highest federal court to reach this conclusion and could change the national landscape of employment law for LGBT people.
"In many cities and states across the country, lesbian and gay workers are being fired because of who they love. But, with this decision, federal law is catching up to public opinion: ninety-percent of Americans already believe that LGBT employees should be valued for how well they do their jobs—not who they love or who they are. Now, through this case and others, that principle is backed up by the courts," said Greg Nevins, Employment Fairness Program Director for Lambda Legal. "This decision is gamechanger for lesbian and gay employees facing discrimination in the workplace and sends a clear message to employers: it is against the law to discriminate on the basis of sexual orientation." …
Reprinted from The Washington Post by Michael Tarm on April 5, 2017.
A ruling by a US appeals court in Chicago reopens the question of whether the 1964 Civil Rights Act's protections apply to LGBT workers in the same way they bar discrimination based on someone's race, religion or national origin.
The immediate impact of the 7th Circuit's decision Tuesday is that employers in Illinois, Indiana and Wisconsin — the states under the court's jurisdiction — would be breaking federal law by showing bias against gay, lesbian, bisexual and transgender employees.
But because the ruling conflicts with all the others made by federal appellate courts since the 1970s, the US Supreme Court may ultimately have to decide whether to uphold the Chicago ruling as national precedent or strike it down as judicial overreach. …