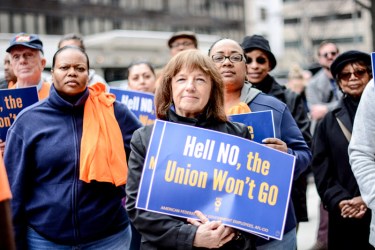 Reprinted from The Washington Post by Lisa Rein on May 31, 2018.
The largest union representing federal workers took the Trump administration to court Thursday to block a new executive order that severely restricts the time employees may spend on union activity, claiming the president's action violates the First Amendment and oversteps his constitutional authority.
The lawsuit filed in US District Court for the District by the American Federation of Government Employees ratchets up ­labor-management tensions that have simmered at federal agencies since President Trump took office.
"This president seems to think he is above the law, and we are not going to stand by while he tries to shred workers' rights," J. David Cox Sr., national president of the AFGE, said in a statement announcing the lawsuit. …