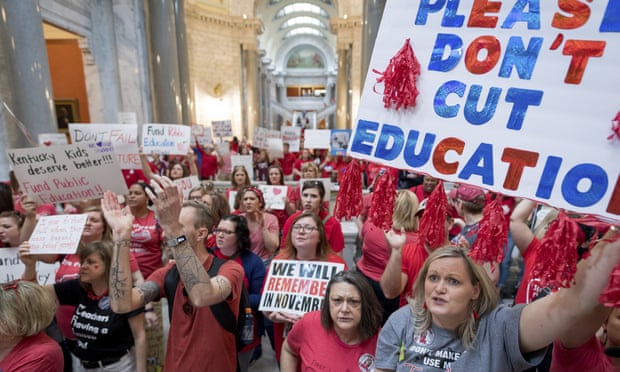 Reprinted from The Guardian by Eric Blanc and Meagan Day on January 14, 2019.
Educators in Los Angeles, the second-largest school district in the country, are going on strike on Monday. By deciding to walk out for smaller class sizes, more support staff, fewer standardized tests and charter school regulation, LA's teachers have ensured that California will be the next state hit by a strike wave that shows no signs of ebbing anytime soon.
The teachers' upsurge was one of the defining stories of 2018. It began in West Virginia, where teacher and support staff decided to shut down the schools until their demands for better pay and healthcare were taken seriously. They won big, and they inspired educators across the nation to follow their example. Work stoppages soon swept across Oklahoma, Arizona, Kentucky, North Carolina and Colorado. Though not all their demands were met, teachers won major gains and changed the national conversation about the reasons for public education's crisis.
Confounding all expectations, most of these actions erupted in Republican-dominated regions with relatively weak labor unions, bans on public sector strikes, and electorates that voted for Donald Trump in 2016. Media pundits dubbed this a "red state rebellion". But blue states are hardly immune to low pay, underfunded schools and frustrated teachers. Last fall, educators across Washington and charter school teachers in Chicago joined the strike wave – and strikes are now looming in Los Angeles as well as Oakland, threatening to disrupt business as usual for tens of millions of people on the west coast. …