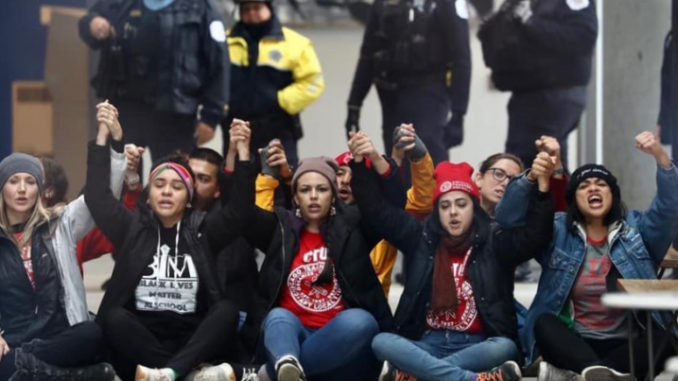 Reprinted from Labor Notes by Samantha Winslow on November 1, 2019.
"[On Friday] Chicago teachers returned to school triumphant, after an 11-day walkout that became a showdown between their union and the proclaimed progressive new Mayor Lori Lightfoot," writes Samantha Winslow in Labor Notes.
"If you're looking for an example of the power of the strike, look no further. The strikers accomplished what months of bargaining could not.
"The mayor and her appointed school board had made all but no movement in the 10 months of bargaining that led up to the strike. (Lightfoot has only been mayor for five months, but she kept the previous bargaining team from former Mayor Rahm Emanuel.)
"Days before the strike, the district presented what it said was its best offer. Once the strike started, the union bargaining team reported that the district was finally moving on its bargaining demands. On day three, the mayor said there was no more money and sent a letter asking the union to end the strike.
"But the mayor must have found more money. On day 10, CTU brought a tentative agreement to its House of Delegates that the mayor said costs $500 million. Where the money will come from is not clear. Delegates voted it up by 60 percent, pending the back-to-work agreement.
"One sticking point remained: CTU wanted the district to make up the lost days, both for the sake of their own paychecks and for the sake of students' instructional time. The mayor was still saying no to that.
"So teachers spent [Thursday], day 11, rallying in the snow outside city hall for a final deal, including the union's terms of return. Meanwhile school employees in SEIU Local 73 stayed out in solidarity, even though they had already voted up their own settlement.
"Ultimately the mayor agreed to make up five of the 11 instructional days lost to the strike. School resumed [Friday]; CTU has 10 days for members to ratify the tentative agreement." …