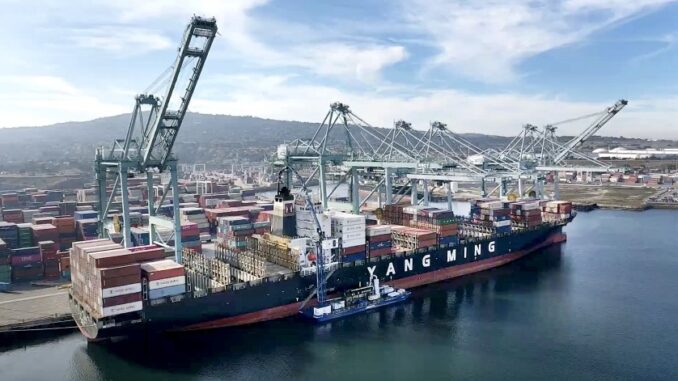 Reprinted from The Los Angeles Times by Richard Read on January 28, 2020.
The union that handles every shipping container that crosses West Coast docks is bracing for bankruptcy. It's a rare prospect for a bargaining group, and it's rattling organized labor nationally.
The International Longshore and Warehouse Union traces its roots to a 1934 strike that claimed the lives of two men commemorated by silhouettes marked on a sidewalk in front of Local 10, the organization's San Francisco chapter. The ILWU's motto — "An injury to one is an injury to all" — attests to the wariness and solidarity of its 15,000 waterfront members, handsomely compensated blue-collar workers already threatened by port automation.
Few of those workers could have imagined that an obscure feud over two dockside jobs in Portland, Oregon, would jeopardize the whole union, whose members line up daily at hiring halls to operate cranes, trucks and machinery in ports from San Diego to Bellingham, Washington. But a $94-million federal jury award November 4 to ICTSI Oregon Inc., a cargo terminal operator, has forced union leaders to warn that a filing for Chapter 11 bankruptcy protection may be ahead.
ILWU attorneys will try, during a February 14 hearing in Portland, to persuade US District Judge Michael Simon to reduce the award, which dwarfs the San Francisco-based union's $20 million in declared assets. But judges tend to be reluctant to overrule juries, doing so only when, in the words of an opinion quoted in a recent ICTSI filing, a decision appears "wrong with the force of a five-week-old, unrefrigerated dead fish." …