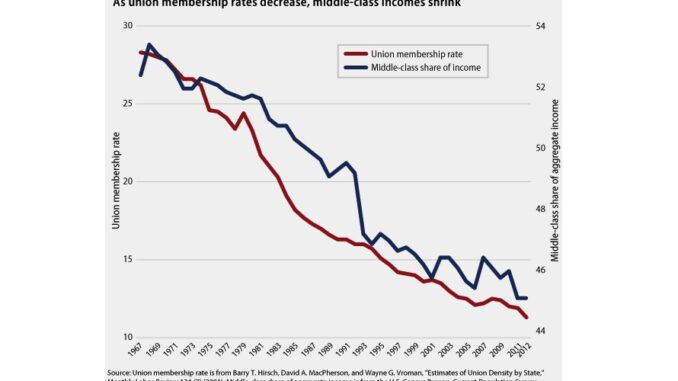 Reprinted from Counterpunch by David Macaray on September 15, 2017.
"In the mid-1980s, I began investigating why the 13 original Confederate states (whose standard of living was uniformly poor) remain so stubbornly and vehemently anti-union," writes David Macaray in Counterpunch. "Given the undeniable historical contributions that organized labor has made to the Working Class (a quaint term that has become largely irrelevant), this palpable hostility makes little sense.
"Yes, even though the South has the lowest union density in the country, a handful of union facilities do exist in Dixie. That's a fact. And yes, there have been a few close-calls ('respectable defeats,' as the AFL-CIO prefers to label them) for big-time American unions seeking certification, most recently the UAW's attempt at organizing a Volkswagen plant in Tennessee, which was narrowly defeated. But by and large the South remains a bastion of anti-unionism.
"Apparently, the majority of Southern folk would rather remain underpaid, under-benefitted, and marginalized than be represented by a labor union. It's stunning really. Incredibly, some of these good people would rather go through life with a total of eleven teeth in their head than partake of a union dental plan. Don't laugh. I've met these people. Bad teeth is a badge of honor for them.
"As part of my investigation, I interviewed dozens of transplanted Southern employees (both hourly and salaried), spoke to academics (sociologists and economists), AFL-CIO professionals, a former US Cabinet member (Robert Reich, Clinton's Secretary of Labor), the vice-president of a paperworkers union in Memphis, a Teamster organizer, an SEIU organizer, and an HR manager of a Fortune 500 facility located in South Carolina. …