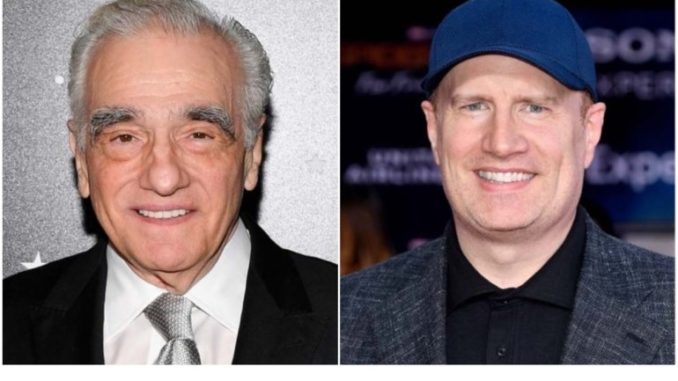 Reprinted from The Hollywood Reporter by Aaron Couch on November 10, 2019.
In early October, Oscar-winning filmmaker Martin Scorsese stirred up a storm as powerful as those conjured by Thor's hammer. During an interview with Empire, the director shared his opinion that Marvel Studios films are more akin to theme park rides than cinema. "It isn't the cinema of human beings trying to convey emotional, psychological experiences to another human being," said Scorsese. In the ensuing weeks, both detractors of Marvel (Francis Ford Coppola) and its defenders (Jon Favreau) have shared their thoughts, with Scorsese expanding upon his comments in a New York Times op-ed published November 4. Throughout it all, one voice has been silent, until now.
Kevin Feige, Marvel chief creative officer and the architect of the Marvel Cinematic Universe, is sharing his first public comments about the Scorsese debate in a wide-ranging conversation with The Hollywood Reporter awards columnist Scott Feinberg on the latest episode of the Awards Chatter podcast.
"I think that's not true. I think it's unfortunate," Feige says when asked about the notion that superhero movies are a negative for cinema. "I think myself and everyone who works on these movies loves cinema, loves movies, loves going to the movies, loves to watch a communal experience in a movie theater full of people."
You can listen to the full conversation here …
Feige has long maintained that Marvel Studios seeks to make different types of films, and over the years has touted 2015's Ant-Man as a heist film and 2014's Captain America: The Winter Soldier as a political thriller. In response to Scorsese, Feige brings up more recent examples of the risks the studio has taken, noting that Marvel hasn't made an Iron Man film since 2013 and instead pitted Robert Downey Jr.'s Tony Stark against Chris Evans' Captain America in 2016's Captain America: Civil War. …