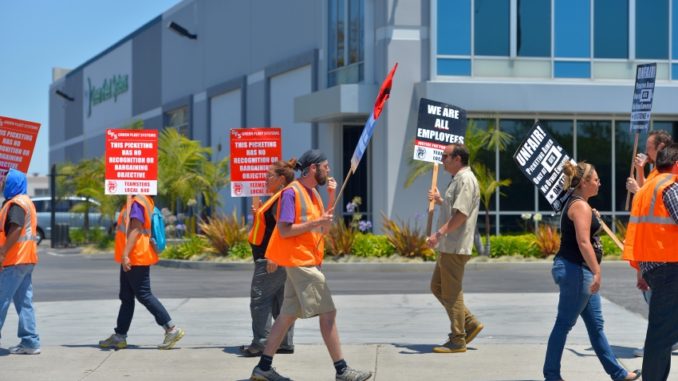 Reprinted from In These Times by Moshe Marvit on October 26, 2018.
An all-Republican panel of President Trump's National Labor Relation Board (NLRB) recently ruled that janitors in San Francisco violated the law when they picketed in front of their workplace to win higher wages, better working conditions and freedom from sexual harassment in their workplace. The ruling could result in far-reaching restrictions on picketing that limit the ability of labor unions to put public pressure on management.
The NLRB reached its conclusion by using the complex and convoluted employment structure created by the janitors' employers. The janitors were technically employed by one company, Ortiz Janitorial Services, which was subcontracted by another company, Preferred Building Services, to work in the building of a third company.
This type of confusing employment relationship is increasingly common, resulting in workers being put in a position where it's difficult to negotiate higher wages and better working conditions, or protect their basic employment rights.
The NLRB based its decision on a particularly onerous provision in federal labor law that prohibits employees from engaging in boycotts, pickets or other activities that are aimed at a secondary employer. The provision was added as part of the 1947 Taft-Hartley Act, taking away one of labor's most powerful weapons. …