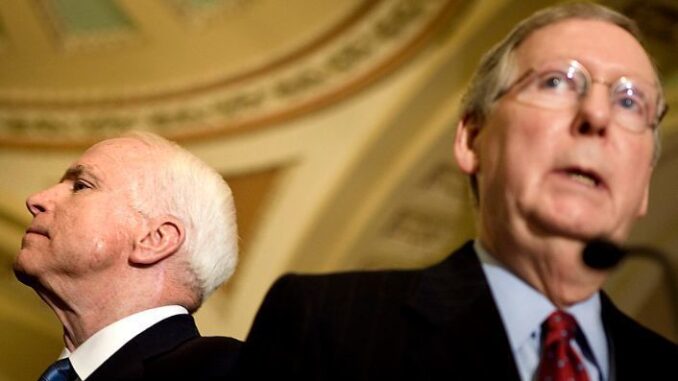 Reprinted from The Washington Post by Sean Sullivan, Kelsey Snell, Ed O'Keefe and John Wagner on July 24, 2017.
The Senate plans to vote Tuesday to try to advance a sweeping rewrite of the nation's health-care laws with the last-minute arrival of Senator John McCain — but tough talk from President Trump won no new public support from skeptical GOP senators for the flagging effort that all but collapsed last week.
In a bit of drama, McCain (R-Arizona), who announced last week he was diagnosed with brain cancer, said Monday night that he will return to the Capitol on Tuesday to vote on whether to start debate on the health-care bill. The senator had been recuperating from surgery in Arizona.
"Senator McCain looks forward to returning to the United States Senate tomorrow to continue working on important legislation, including health care reform, the National Defense Authorization Act, and new sanctions on Russia, Iran and North Korea," McCain's office said in a statement.
It is in unclear, however, if McCain's return will improve Republicans' prospects of passing a key procedural hurdle to move the health-care bill forward. …