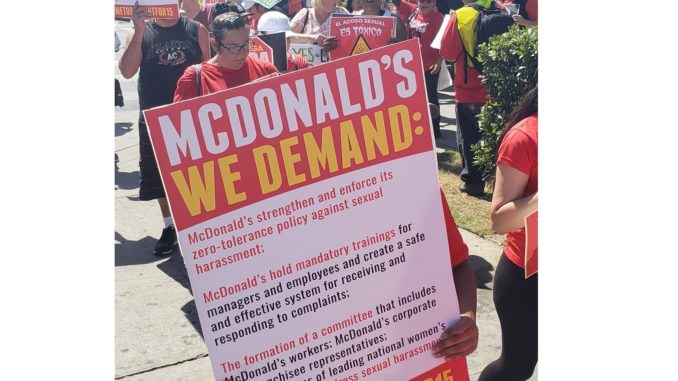 Reprinted from Commmon Dreams by Jessica Corbett on September 18, 2018.
In the first-ever nationwide strike of its kind for the fast food industry, hundreds of McDonald's workers channeled the power of the #MeToo movement on Tuesday by walking out to protest the company's failure to address the "sexual assault epidemic" at its restaurants.
Protests across 10 major American cities—Chicago, Durham, Kansas City, Los Angeles, Miami, Milwaukee, New Orleans, Orlando, San Francisco, and St Louis—aimed to pressure the company to "strengthen and enforce its zero-tolerance policy against sexual harassment" by holding mandatory trainings, creating an effective system to manage complaints, and forming a committee that includes workers to improve policies.
"Today's action is not just bold, but historic," the Cut reports. "This is the first-ever nationwide strike against sexual harassment, and it's led by working-class women of color in a moment of reckoning that tends to be dominated by accounts of the wealthy and privileged." …
McDonald's Workers Strike Over Sexual Harassment Policy
Reprinted from the BBC on September 18, 2018. It is unattributed.
The strike comes after 27 women filed complaints against the chain, alleging it failed to enforce company rules against abuse.
The women said they were ignored after reporting incidents including groping, indecent exposure and lewd comments.
McDonald's said there was "no place for harassment" at its restaurants.
The strike was planned to last for one hour around lunch time and targeted multiple restaurants in cities including Chicago, Los Angeles and Miami.
Hundreds of cashiers and cooks walked out, protest organisers said. They were joined by other labour activists. …