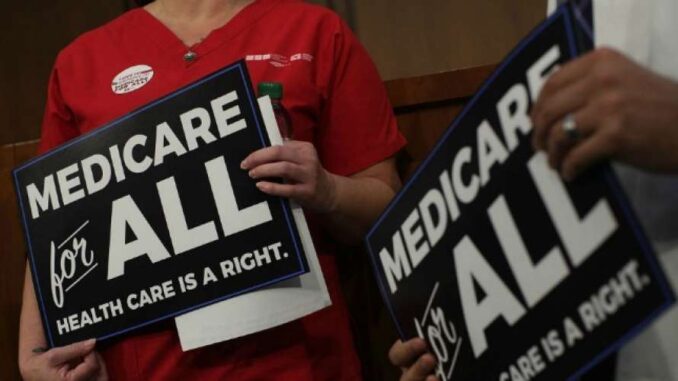 Reprinted from Common Dreams by Jake Johnson on September 13, 2017.
Flanked by nurses, doctors, activists, business leaders, and 16 of his Democratic colleagues, Senator Bernie Sanders (I-Vermont) on Wednesday unveiled the Medicare for All Act of 2017, which proposes a "rational" transition away from the current for-profit system toward a single-payer program that guarantees healthcare to all Americans.
In speech after speech during Wednesday's event, nurses told harrowing stories detailing the massive human costs of providing healthcare only to those patients who can afford it. Melissa Johnson, RN, an oncology nurse with the California Nurses Association, said: "This system is killing too many of my patients."
Lawmakers, for their part, issued ringing endorsements of Sanders' legislation, which comes as Medicare for All is experiencing a "groundbreaking" surge in support at the grassroots and within the Democratic Party.
"We should understand that everyone—all—should receive the healthcare they need regardless of where they come from or their zip code," said Senator Kamala Harris (D-California), who was the first Democratic senator to co-sponsor Sanders' bill. "That's what this bill is about and I'm proud to co-sponsor. This is about a right, not a privilege for the few. Medicare for All stands for the proposition that all Americans, from the day of birth, will have access to healthcare." …