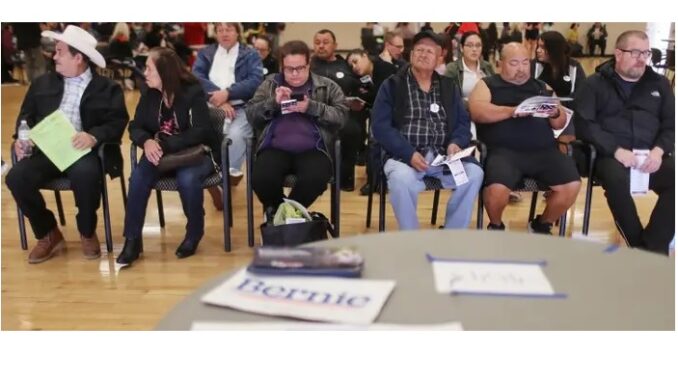 Reprinted from The American Prospect by Nidhi Prakash on February 21, 2020.
Despite the leadership of Nevada's largest union criticizing Bernie Sanders over his health care plan in the lead-up to the state's presidential caucus, the majority of union members caucusing at the Bellagio Hotel and Casino on the Las Vegas strip backed Sanders on Saturday.
Some workers who spoke to BuzzFeed News said they support Sanders' Medicare for All proposal, even though they appreciate the union health care they have, because they have friends and relatives who don't have union health care and worry about what would happen if they lost their jobs. …
Across the Las Vegas strip, the pattern of Culinary union members backing Sanders despite the conflict with leadership appeared to be repeating. In CNN's caucus entrance poll, Sanders had the by far most support of any candidate amongst union members, with 34%. …
Nevada Union Support for Sanders Shows Limits of Labor Warning
Reprinted from The New York Times by The Associated Press on February 22, 2020.
Members of Nevada's most politically powerful labor group were warned by union leaders that Bernie Sanders' plan would doom their prized health care, but they voted for him anyway.
The casino workers of the Culinary Workers Union Local 226 are powerful enough in Nevada Democratic politics that special caucus sites are set up in Las Vegas Strip casinos to accommodate them. In at least four of those seven caucus sites Saturday, workers threw their support behind Sanders.
The results are a warning sign to labor unions that any attempt to influence the primary risks being ignored, and a harbinger of Sanders' strength with working-class voters, Latinos and labor rank and file — all voters that will be critical in California's delegate-rich primary early next month. …
After the Nevada Blowout, It's Bernie's Party Now
Reprinted from Jacobin by Dustin Guastella, Connor Kilpatrick on February 22, 2020.
"Bernie Sanders's crushing victory in the Nevada caucuses [Saturday] is much more than one giant leap toward the Democratic Party nomination," writes Dustin Guastella and Connor Kilpatrick in Jacobin.
"Sanders is, of course, the favorite to win at the convention in Milwaukee. But a closer look at the numbers and demographics of the 'Silver State' reveals something much bigger — the seeds of a new electorate rising up, and a fundamental realignment of US politics. And a new party, thoroughly working-class and committed to egalitarian politics, quickly blooming up into the husk of the old one.
"While recent polls show Trump strengthening his grip on the Rust Belt, Sanders's victory in Nevada points ahead to a new electoral map which might be the key not only to defeating Trump in November but toward rebuilding a working-class movement in America. …
Paul Krugman: 
Bernie Sanders Isn't a Socialist
Reprinted from The New York Times by Paul Krugman on February 13, 2020.
"Republicans have a long, disreputable history of conflating any attempt to improve American lives with the evils of 'socialism,'" writes Paul Krugman in The New York Times. "When Medicare was first proposed, Ronald Reagan called it 'socialized medicine,' and he declared that it would destroy our freedom. These days, if you call for something like universal child care, conservatives accuse you of wanting to turn America into the Soviet Union.
"It's a smarmy, dishonest political strategy, but it's hard to deny that it has sometimes been effective. And now the front-runner for the Democratic presidential nomination — not an overwhelming front-runner, but clearly the person most likely at the moment to come out on top — is someone who plays right into that strategy, by declaring that he is indeed a socialist.
"The thing is, Bernie Sanders isn't actually a socialist in any normal sense of the term. He doesn't want to nationalize our major industries and replace markets with central planning; he has expressed admiration, not for Venezuela, but for Denmark. He's basically what Europeans would call a social democrat — and social democracies like Denmark are, in fact, quite nice places to live, with societies that are, if anything, freer than our own. …