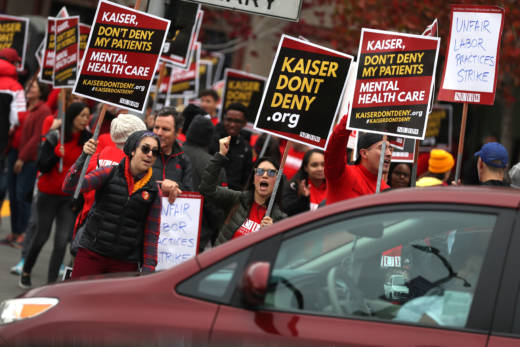 Reprinted from The Washington Post by The Associated Press on December 10, 2018.
Thousands of Kaiser Permanente mental health professionals throughout California started a weeklong strike Monday to protest what they say is a lack of staffing that affects care.
Outside Kaiser Permanente hospitals and clinics in the San Francisco Bay Area dozens of workers marched Monday holding signs that read "Kaiser, Don't Deny My Patients Mental Health Care," and "Care Delayed is Care Denied."
About 4,000 psychologists, therapists, social workers, psychiatric nurses and other medical professionals represented by the National Union of Healthcare Workers say they will picket through Friday. …

San Diego Kaiser Psych Employees Start Five-Day Statewide Strike
Reprinted from The Los Angeles Times by Paul Sisson on December 10, 2018.
… Picketers who gathered Monday at Ruffin Road and Clairemont Mesa Boulevard in front of Kaiser's new San Diego Medical Center were members of the National Union of Healthcare Workers, which represents Kaiser marriage and family therapists, licensed clinical social workers, psychologists and psychiatric registered nurses.
It's not the first time the union has gone on strike over Kaiser's approach to mental health. In 2015, the same group walked picket lines in front of Kaiser's Zion Avenue hospital citing understaffing that drew a $4 million fine from the state Department of Managed Care in 2013. That fine came amid what the state said were problems with Kaiser members getting timely initial mental health appointments.
Mark Land-Ariizumi, a psychiatric nurse at Kaiser's Point Loma medical office complex, said that while the Kaiser system has managed to make sure that initial mental health appointments are made in a timely manner, it can take "six to eight weeks" for follow-up appointments. That wait, he said, exceeds the standard of care. …