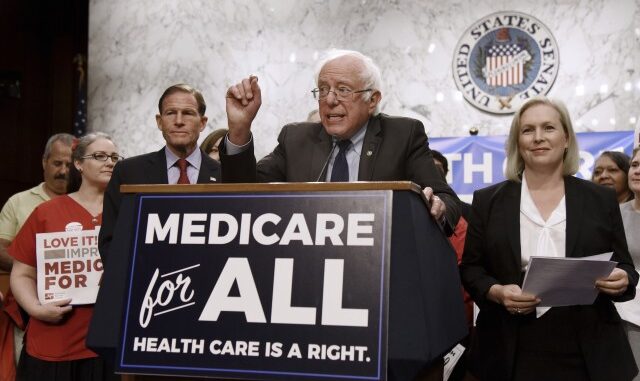 Reprinted from The American Prospect by Harold Meyerson on September 13, 2017.
"I'm a fervent supporter of Bernie Sanders's Medicare for All bill, which he introduced Wednesday along with 16 Senate Democrat co-sponsors—and not only because I believe health care is a right and that a universal single-payer system is the best way to ensure that right," writes Harold Meyerson in The American Prospect.
"I also support it because it diminishes the power of capital not just in our economy but in our politics as well.
"I also support it because it's aspirational—setting a long-term goal that will both motivate Democratic and progressive activists and clarify the Democrats' purpose to an electorate that at times has been understandably unsure how or whether the Democrats champion their interests.
"Most important, I also support it because it's gradualist—expanding Medicare in its first tranche to cover just those Americans under 19 and over 49, then lowering the age for eligibility to 45, then 35, then making it universal, in subsequent years. The political implications of this gradualism may make it easier to assemble a congressional majority to enact this bill, and may also make it easier for progressive and centrist legislators in more conservative states or districts to support it in piecemeal fashion. …