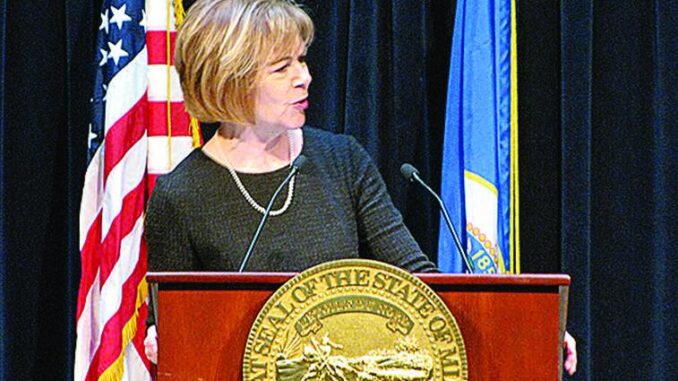 Reprinted from Work Day Minnesota by Steve Share on January 2, 2017.
Minnesota's union leaders reacted positively to Minnesota Governor Mark Dayton's appointment of Lieutenant Governor Tina Smith to fill the vacant US Senate seat created by Al Franken's resignation.
Franken, beset by accusations of improper sexual conduct, stepped down form his Senate seat Tuesday, January 2, 2018.
In the US Senate, Franken had earned a voting record as high as 99 percent or even 100 percent on working family issues tracked by the AFL-CIO.
With Dayton's December 13 announcement tapping  Smith to replace Franken, union leaders were quick to endorse the choice.
"Tina Smith in the United States Senate is good news for working Minnesotans," said Bill McCarthy, Minnesota AFL-CIO president.
"For the last seven years, Tina Smith has been Governor Dayton's partner in building a better Minnesota," McCarthy said. "Be it raising the minimum wage, strengthening our state's infrastructure, or expanding working people's freedom to join together in union, Lieutenant Governor Smith has been there to help get key legislation across the finish line. She's has been a leader on reducing healthcare costs and combating Minnesota's opioid crisis; expertise that she will carry to the Senate. …