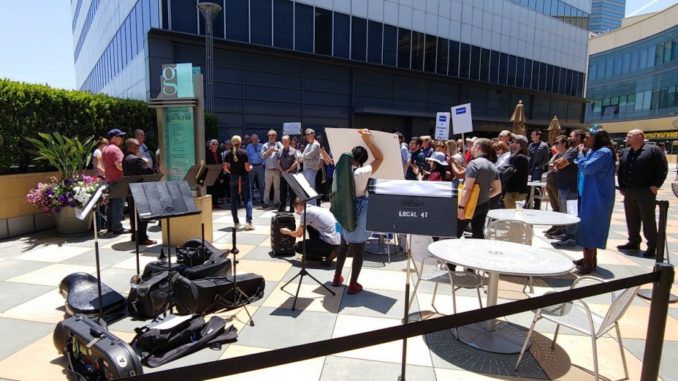 Reprinted from The Hollywood Reporter by Jonathan Handel on June 27, 2019.
Over one hundred members and supporters of the American Federation of Musicians Local 47 rallied Thursday at the Sherman Oaks headquarters of the Alliance of Motion Picture and Television Producers, demanding something that above-the-line guilds achieved in 2014 and enhanced in 2017: residuals on product made for streaming services such as Netflix and its coming wave of competitors from Disney, Comcast and others.
Obtaining contracts that harmonize with the other guilds' would be sweet music for Local 47, but so far the instrumentalists are finding themselves drummed out by the AMPTP. As the industry pivots ever more toward streaming video on demand platforms, musicians assert they are being left behind. They get no residuals on SVOD product.
It's a familiar place for the AFM, since — even before SVOD — musicians were (and remain) subject to contracts that pay out residuals under far fewer circumstances than directors, writers and actors enjoy; the checks are smaller too. But the sotto voce contracts are also a bitter irony, because the AFM was a powerhouse in the earliest fights for residuals during the 1940s and '50s. …