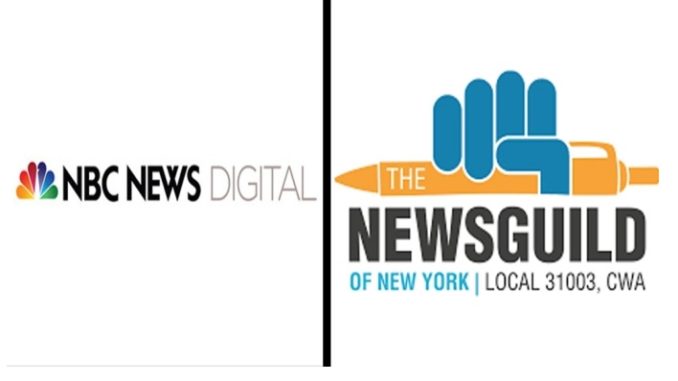 Reprinted from Deadline Hollywood by David Robb on December 13, 2019.
The editorial staff of NBC News Digital has voted 90-40 to join the NewsGuild of New York. The new bargaining unit includes reporters, video journalists, editors, social media strategists, designers and editorial staff from nbcnews.com, today.com, StayTuned, msnbc.com, and NBC News Now.
"We are proud to officially welcome the staff of NBC News Digital to our union," said Susan DeCarava, president-elect of the NewsGuild of New York. "We have seen time and again that media workers win significant improvements to their working conditions when they come together and bargain collectively. We look forward to getting to the bargaining table with our members, and we expect NBC management to work with us in good faith to secure a strong contract for this talented newsroom."
The union announced on October 30 that an overwhelming majority of the editorial staff had signed union authorization cards and requested voluntary recognition from NBCUniversal management. The company refused to recognize the union, prompting the union to file for an election with the National Labor Relations Board.
The newsroom staff at NBC News Digital is the latest of more than 2,500 media workers who have joined the union in the last two years, including news teams at The New Yorker, New York Magazine, BuzzFeed News, The New Republic, The Los Angeles Times, The Arizona Republic and many others.
In a lengthy statement, the newly formed NBC Digital NewsGuild criticized NBC News for various shortcomings, including allegedly mishandling "serious incidents of sexual misconduct and racism without the transparency and sensitivity such issues require." …