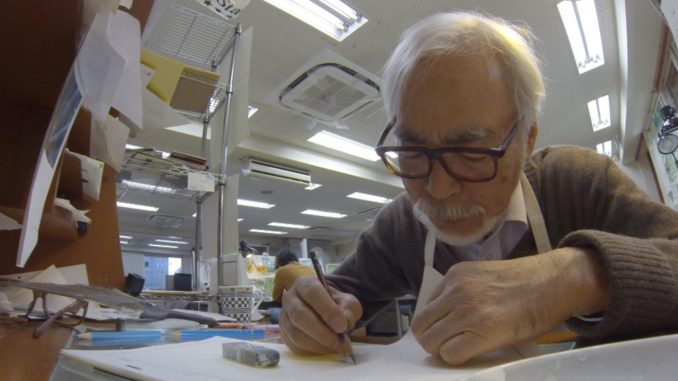 Reprinted from The New York Times by Glenn Kenny on December 13, 2018.
The Japanese director Hayao Miyazaki, whose animated classics include My Neighbor Totoro, Princess Mononoke and the Oscar-winning Spirited Away, is an artist sufficiently painstaking as to be called tortured. As such, he has announced his retirement more than once over the course of his four-decade career. But after he finished the 2013 feature The Wind Rises, Miyazaki, now 77, seemed intent on putting a stop to his work. In 2014 he shut down his offices at Studio Ghibli, the animated film company he co-founded in 1985.
After a prologue laying all this out, Never-Ending Man: Hayao Miyazaki, a documentary directed by Kaku Arakawa made in 2016 and having its New York theatrical premiere this week, finds the maestro in a sparsely-furnished house referred to as his "atelier," brewing coffee, brooding and sketching.
He still has the creative urge. But he worries that C.G.I. is making his own brand of hand-drawn animation obsolete. He bristles at the labor hand-drawn animation requires and ponders a compromise. Archival footage of the making of his feature films shows how demanding he was on his staff. As he gathers young talent to experiment with computer animation for a short film, we see an artistic genius who's also a less than efficient, let alone intuitive, manager. …