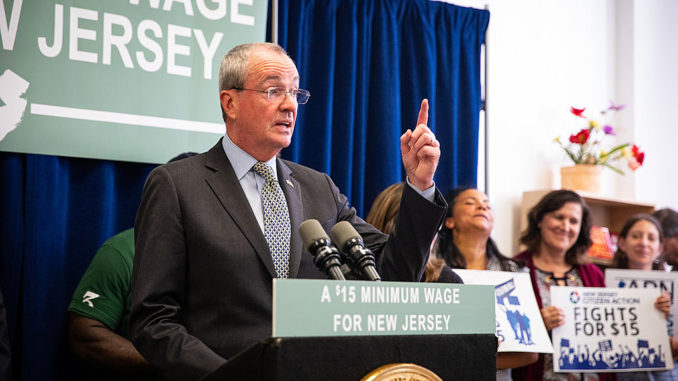 Reprinted from The Daily Kos by Laura Clawson on January 19, 2019.
Since New Jersey shed itself of Chris Christie, things have been looking up. And now around a million of the state's low-wage workers will be getting a raise. Governor Phil Murphy and legislative leaders reached an agreement on $15 minimum-wage legislation, something Christie had previously vetoed.
Under the plan, most workers would get a $15 minimum wage in 2024. The first raise will come July 1, to $10 from the current $8.85, then rise by a dollar a year until it reaches $15. Once it reaches $15, it will be adjusted for inflation annually. The tipped-worker minimum wage will rise gradually from $2.13 an hour to $5.13 an hour.
Exceptions to $15-in-2024 include workers at businesses with five or fewer employees and seasonal workers, who will take longer to reach $15, and farm workers, who will get to $12.50 in 2024 and then be at the mercy of state officials to decide whether they should eventually reach $15. Because … farm work isn't hard enough to be worth $15 an hour? There sure are always people lined up to demand crappy concessions on worker-friendly bills. But one key attempt at undermining the policy was defeated, and teen workers will get the full $15 in 2024. …