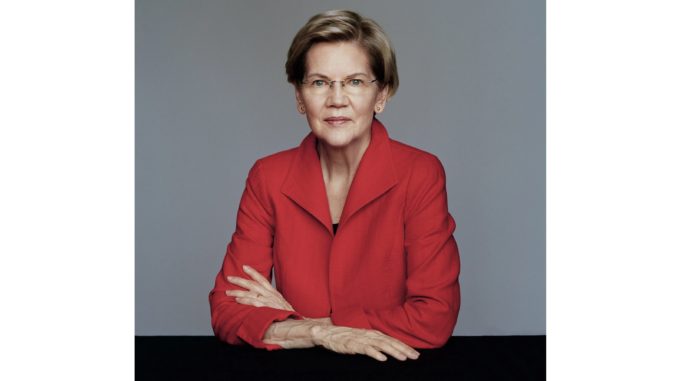 Reprinted from The New York Times Magazine by Emily Bazelon on June 17, 2019.
"The first time I met Elizabeth Warren, she had just come home from a walk with her husband and her dog at Fresh Pond, the reservoir near her house in Cambridge, Massachusetts," writes Emily Bazelon in The New York Times Magazine. "It was a sunny day in February, a couple of weeks after Warren announced her candidacy for president, and she was wearing a navy North Face jacket and black sneakers with, as usual, rimless glasses and small gold earrings. Her hair had drifted a bit out of place. …
"As a presidential candidate, Warren has rolled out proposal after proposal to rewrite the rules again, this time on behalf of a majority of American families. On the trail, she says 'I have a plan for that' so often that it has turned into a T-shirt slogan. Warren has plans (about 20 so far, detailed and multipart) for making housing and child care affordable, forgiving college-loan debt, tackling the opioid crisis, protecting public lands, manufacturing green products, cracking down on lobbying in Washington and giving workers a voice in selecting corporate board members. Her grand overarching ambition is to end America's second Gilded Age.
"'Ask me who my favorite president is,' Warren said. When I paused, she said, 'Teddy Roosevelt.' Warren admires Roosevelt for his efforts to break up the giant corporations of his day — Standard Oil and railroad holding companies — in the name of increasing competition. She thinks that today that model would increase hiring and productivity. Warren, who has called herself 'a capitalist to my bones,' appreciated Roosevelt's argument that trustbusting was helpful, not hostile, to the functioning of the market and the government. She brought up his warning that monopolies can use their wealth and power to strangle democracy. 'If you go back and read his stuff, it's not only about the economic dominance; it's the political influence,' she said. …
"Warren, like everyone in the race, has yet to prove that she has the political skills and broad-enough support to become president. But a parallel from another country suggests that perhaps bearing down on policy is the best strategy against right-wing populism. Luigi Zingales, the University of Chicago economist, comes from Italy, and he feared Trump's rise back in 2011, having watched the ascension of Silvio Berlusconi, the corrupt billionaire tycoon who was elected prime minister of Italy in the 2000s as a right-wing populist. After Trump's victory in 2016, Zingales pointed out in a New York Times Op-Ed that the two candidates who defeated Berlusconi treated him as 'an ordinary opponent,' focusing on policy issues rather than his character. 'The Democratic Party should learn this lesson,' Zingales wrote. He now thinks that Warren is positioned to mount that kind of challenge. 'I think so," he said, "if she does not fall for his provocations.' …