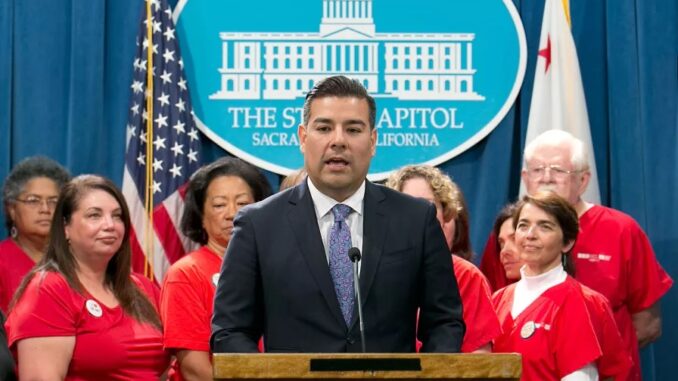 Reprinted from The Nation by John Nichols on June 2, 2017.
"If health care is a right—and it is—the only honest response to the current crisis is the single-payer 'Medicare for All' reform that would bring the United States in line with humane and responsible countries worldwide," writes John Nichols in The Nation.
"It is unfortunate that Donald Trump, who once seemed to recognize the logic of single payer, has aligned  himself with House Speaker Paul Ryan's scheme to make health a privilege rather than a right—and to use a 'reform' of the Affordable Care Act as a vehicle to reward wealthy campaign donors with tax cuts and sweetheart deals. The debate in Washington is so cruel and unusual that it is easy to imagine that the cause of single payer must be doomed in America.
"Not so. The movement for single payer is for real, and it's winning in California. …
The California Senate approved a measure Thursday aimed at establishing a government-run universal health care system in the Golden State.
The system, which would replace Obamacare – or what follows it under the Trump administration – would dramatically overhaul the health care market in California. Approved on a 23-14 vote, it now moves to the Assembly.
"With President Trump's promise to abandon the Affordable Care Act as we know it, it leaves millions without access to care and Californians are once again tasked to lead," said Senator Ricardo Lara, D-Bell Gardens. "Senate Bill 562 will finally enable California to cover all of its residents, creating a healthier and stronger state." …