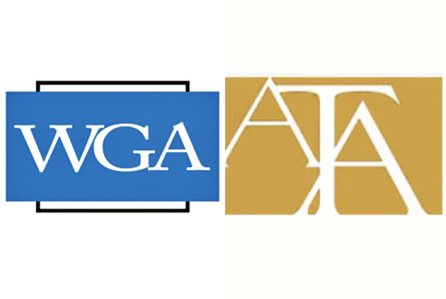 Reprinted from Deadline Hollywood by David Robb on March 14, 2019.
The WGA and the Association of Talent Agents met Thursday for the second time this week to hammer out a new franchise agreement ahead of the April 6 deadline for a deal. Little progress was made, but the two sides agreed to return to the bargaining table on Monday.
"The WGA presented a counter-proposal that they knew wasn't acceptable," an agency source told Deadline. "It almost wasn't different at all from their original proposals, but they they have a new title for it. It's like putting lipstick on a pig."
WGA West president David Goodman opened today's negotiations with a lengthy statement in response to ATA President Jim Gosnell's opening remarks from Tuesday. "We disagree with most of your proposed solutions," he said, adding that "we are still speaking different languages on the crucial issue of the role of the union in protecting the wellbeing of writers." …
.
Washington Post: Hollywood Agents and Writers Meet, but Impasse Remains
Reprinted from The Washington Post by Steven Zeitchik on March 14, 2019.
… The talks come after the WGA released a white paper this week that called the major agencies a "cartel" that uses its "control of talent primarily to enrich themselves."
"The major agencies' business model is based on conflicts of interest that harm their clients and violate the law," the paper said. "By maximizing their own profits and now the profits of their outside investors, these agencies have strayed from their core purpose of representing the interests of their clients."
A mass firing of agents would probably not trigger an immediate stoppage of new material on television and in movie theaters. In the short term, writers can be represented by lawyers, managers and, potentially, a handful of smaller agencies that could agree to abide by the WGA's preferred codes. …