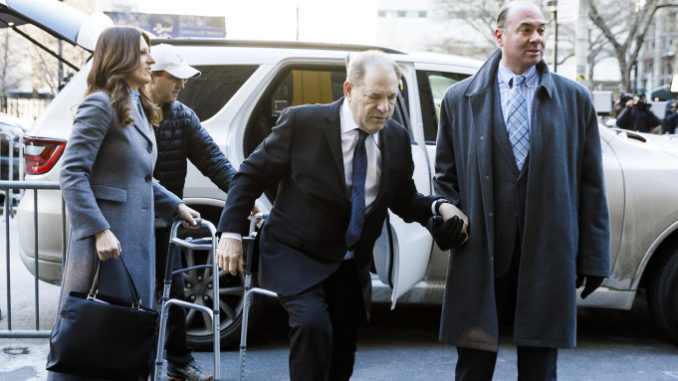 Reprinted from Deadline Hollywood by Ted Johnson on January 22, 2020.
… New York Assistant District Attorney Meghan Hast described a pattern of repeated sexual assault by producer Harvey Weinstein, telling jurors in her opening argument Wednesday that they will come to see the famous Hollywood producer as "a sexual predator and a rapist."
The jury of seven men and five women listened intently [Wednesday] morning as she described, in graphic detail, the stories of three alleged victims, all of them vulnerable in their lives and careers who were "tricked" by Weinstein into letting them believe that he had an interest in their careers, yet forced them into situations where he raped and assaulted them. …
Weinstein, 67, faces five charges of sexual assault stemming from allegations by two women related to incidents in 2006 and 2013. The former Miramax honcho has insisted that all the sexual encounters were consensual. If convicted, he could face life in prison. …
Silence Breakers Slam Harvey Weinstein's 'Monstrous Crimes'
Reprinted from Deadline Hollywood by Dominic Patten on January 22, 2020.
As opening arguments in Harvey Weinstein's rape trial continue [Wednesday], dozens of the much-accused producer's alleged victims are speaking out to show support for those who will testify in the courtroom, as well as share their stories with the world.
"We stand in solidarity with Annabella Sciorra, Mimi Haleyi, Dawn Dunning and all of the women who will courageously testify against Harvey Weinstein in court," the 27 Silence Breakers claimed Wednesday as they launched an Instagram handle to coincide with the much-anticipated trial really getting down to brass tacks.
"For decades, Weinstein wielded his power to mentally, physically and professionally abuse and silence women with impunity," the Silence Breakers plan to say on @_NoLongerSilent. …