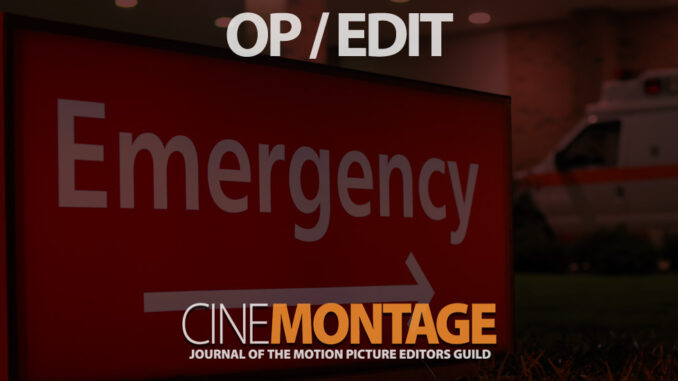 by Jeff Burman
Our union provides its members with some of the best group healthcare insurance available. If you work under an IATSE contract and are an eligible participant in the Motion Picture Industry Pension and Health Plans, active or retired, you and your spouse, including same-sex spouse, are covered. (Please bear in mind that if your spouse gets healthcare coverage from his or her workplace, that coverage will supersede ours.) Participants with children under the age of 26 are also covered. While medical, hospital and prescription drug coverages are available to dependent children up to age 26, dependent eligibility for dental and vision coverage is not available unless your child is under age 19 (or under age 23 if a full-time student). Active participants are required to pay a premium for dependents covered.
For the sake of clarity, there are specific eligibility requirements that can be found in the Motion Picture Industry Pension and Health Plans' Summary Plan Descriptions. Visit www.mpiphp.org and open the Active or Retiree Health Plan links. Members covered under the IATSE National Benefit Fund Plans can go to www.iatsenbf.org.
Having said that, you are eligible under your group insurance to receive benefits covering dental, vision, mental health and emergency hospital care. This covers specific areas of service such as acupuncture, alcoholism, birth control, chiropractic, counseling, dermatology, diabetes, genetic testing, hearing aids, hospice care, immunizations, maternity care, nutritional care, osteopathy, physical therapy, podiatry, prostheses and transplants, to name a few.
To optimize these valuable benefits, we are advised to be smart consumers. This means being vigilant about ensuring that your healthcare providers are providing services and referrals to you that are "in network."
A growing problem with healthcare plans — and we are not immune to this — is the ability for participants to have services provided that are unknowingly billed as "out of network." For example, just because a surgeon is "in network" does not necessarily mean that an anesthesiologist working on the same procedure is not "out of network."
In a Los Angeles Times article by David Lazarus from last March, the Consumer Reports National Research Center found that "nearly a quarter of Californians who had hospital visits since 2013 were surprised to find that at least some charges at 'in-network' hospitals were at 'out-of-network' rates."
Thousands of dollars of services end up in hospital bills to cover "out-of-network" medical care at "in-network" facilities. These are fees most insurance plans will not reimburse. However, Bill AB 533 is in the works in Sacramento that would fix this.
Who could be against that? The California Medical Association, for one. It is calling for its member doctors to oppose AB 533, saying it "would transfer enormous negotiating power to the health plans at the expense of physicians." The CMA is clearly protecting higher fees.
Gerald Kominski, director of the UCLA Center for Health Policy Research, said it's unreasonable to think that any patient or family member would stop and inquire about the network status of healthcare practitioners at an "in-network" facility. "No one would have the presence of mind to ask such questions amid the mayhem of a medical emergency," he said. "It's unconscionable."
On the other hand, hospitals can't "dictate to physicians and other healthcare providers which insurance plans they must accept," according to a statement from the Hoag Orthopedic Institute, as quoted by Lazarus in the Times.
In painstaking detail, AB 533 would allow California patients to pay only "in-network" rates at an "in-network" facility, regardless of the insurance status of individual healthcare providers.
AB 533 does not cover emergency services. The existing law, the Knox-Keene Health Care Service Plan Act of 1975, provides for the licensing and regulation of healthcare service plans by the California Department of Managed Health Care. A willful violation of the act is a crime. Existing law requires a healthcare service plan to reimburse providers for emergency services provided to its enrollees, until the care results in stabilization of the enrollee.
AB 533 would require that if an enrollee or insured receives covered services from a contracting health facility by a non-contracting individual health professional, the enrollee or insured participant would be required to pay the non-contracting individual health professional the same fee required if the services were provided by a contracting individual health professional.
The bill would require a plan or insurer to base reimbursement for covered services on the amount the individual health professional would have been reimbursed by Medicare for the same or similar services in the general geographic area in which the services were rendered.
For more precise language and for case-by-case descriptions, go to the California Legislative Information website to read the text of AB 533.
California State Assemblyman Rob Bonta (D-Alameda), the bill's author, said the legislation already has been approved by Assembly and Senate committees, and he's hopeful it will soon reach the governor's desk. The bill was last voted on in the Assembly on September 12, 2015.
If you agree with the bill and want to lend your support, contact your California State Assembly person. If you live somewhere other than California, contact your state representative.