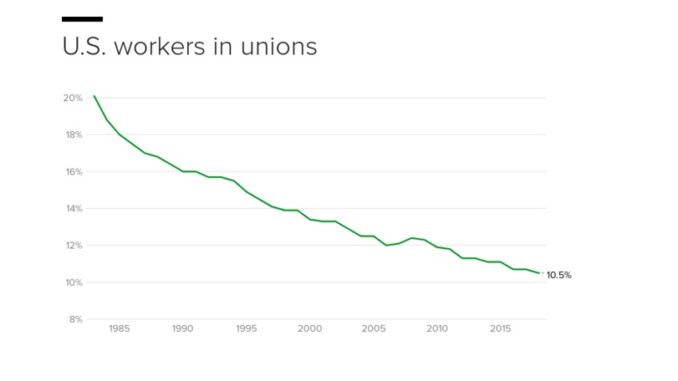 Reprinted from The Economic Policy Institute by Heidi Shierholz on January 22, 2020.
New data on unionization from the Bureau of Labor Statistics show that in 2019, 16.4 million workers in the US were represented by a union. There was very little change in this figure from 2018 (+3,000). However, because employment of wage and salary workers grew at a faster rate than the number of workers represented by a union over this period (1.2% vs. 0.02%), the share of workers represented by a union ticked down between 2018 and 2019, from 11.7% to 11.6%. Table 1 provides top-line numbers for union representation and union membership both overall and separately for the private sector and public sector. What follows is a discussion based on the numbers in the table and on additional numbers that can be found in the BLS data release.
Union Membership
If a workplace is unionized and a worker is in a bargaining unit, they get the benefits of being represented by the union even if they are not a member. (No worker can legally be required to join a union, but depending on the state, private-sector workers may be required to pay a "fair share fee" toward the cost of representation). This means that the share of workers represented by a union is somewhat higher than the share of workers who are members of a union. In 2019, the share of workers represented by a union was 11.6%, while the share of workers who were union members was 10.3%, a decline of 0.2 percentage points relative to the 10.5% rate in 2018. A large portion of the 0.2 percentage point decline is attributable to a drop in union membership among local government workers, which occurred both as the result of a decline in the union membership rate for local government workers from 40.3% to 39.4% and, to a lesser degree, as the result of the loss of 48,000 local government jobs. …
Number of Californians Represented by Unions is Increasing as National Union Organizations Stagnate
Reprinted from Technoea by Gary Stauffer on January 25, 2020.
The number of Californians represented by the unions rose by 139,000 last year, thanks to successful organizing campaigns spanning professions as diverse as nurses, electricians, animators, scooter mechanics and university researchers.
The 2.72 million workers represented in the Golden State accounted for 16.5% of the workforce, down from 15.8% in 2018, according to the US Department of Labor Statistics on Wednesday.
The increase is due to years of declines in the number and proportion of employees reflecting national trends. Two decades earlier, 18.3% of California workers were unionized. …
Overall Union Membership Drops by 0.2 Percent; Rises to 33.6 Percent in Public Sector
Reprinted from The Hill by Niv Elis on January 21, 2020.
The percentage of salaried workers in labor unions fell 0.2 points in 2019 to a record low of 10.3 percent, almost half the 20.3 percent rate in 1983 and a 2-point drop from a decade earlier, according to data the Bureau of Labor Statistics (BLS) released Wednesday.
Membership in unions, a key base of support for Democrats, remained significantly higher in the public sector, where local unions for police, teachers and firefighters helped push rates up to 33.6 percent, compared with just 6.2 percent in the private sector.
With $1,095 in median weekly earnings, union workers out-earned nonunion workers' median $892 salaries by 22.7 percent.
Kate Bronfenbrenner, director of labor education research at Cornell University, said the decline followed naturally from anti-labor policies in the Trump administration. …