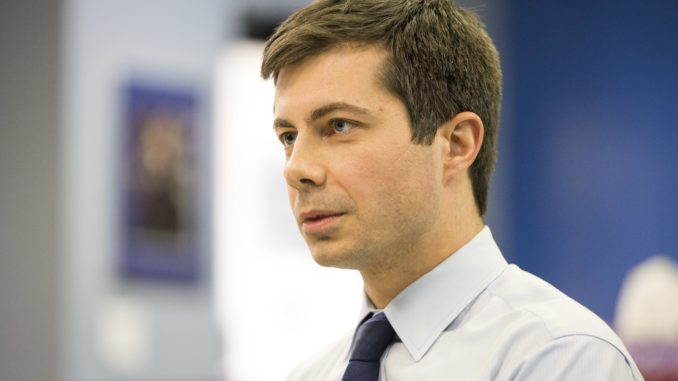 Reprinted from CNN by Dan Merica on April 14, 2019.
On Sunday, South Bend Mayor Pete Buttigieg — the fastest-rising Democratic candidate in the large and growing field of presidential hopefuls — officially announced his presidential campaign, exiting the lengthy exploratory portion of his 2020 bid at an event inside the once bustling Studebaker plant that, when hollowed out after the company left in 1963, was a tangible symbol of his hometown's march toward decay.
"My name is Pete Buttigieg. They call me Mayor Pete," Buttigieg told a cheering crowd. "I am a proud son of South Bend, Indiana. And I am running for President of the United States."
.
Just more than a month ago, Buttigieg was a largely unknown Midwestern Democrat who decided to run for President. …
.
Pete Buttigieg's Campaign Kickoff: Full Speech, Annotated
Reprinted from The New York Times by Alexander Burns on April 15, 2019.
… First comes freedom: something that our conservative friends have come to think of as their own … let me tell you freedom doesn't belong to one political party.
Freedom has been Democratic bedrock ever since the New Deal. Freedom from want, freedom from fear. …
Organized labor sows freedom, because you're not free if you can't organize for a fair day's pay for a good day's work. …
Pete Buttigieg is Running for President in 2020; Here's Where He Stands on 9 Important Issues
Reprinted from Elle by Madison Feller on March 29, 2019.
… Economy
In a recent interview with Stephen Colbert, Buttigieg said he believes, "If nothing changes economically, we'll be the first generation to make less than our parents." Buttigieg has said the Democratic party needs to be in conversation with labor unions and supports the economic opportunities presented in the Green New Deal.
He also told Esquire.com that he believes in "addressing or reversing harm and inequities" through policy, explaining that "in housing and criminal justice, to some extent in basic economic policies around wages and taxation, that some policy improvements that are also the right thing to do will have a disproportionate benefit to people of color." …