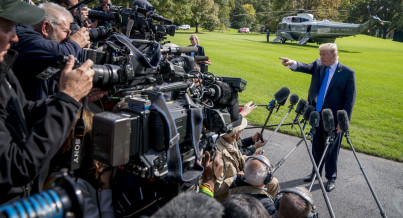 Reprinted from Politico by Daniel Downey, Jr. on December 31, 2017.
"As his first year in the White House draws to a close, Donald J. Trump remains in almost every respect a singular character," writes Daniel Downey Jr. in Politico. "He exists well outside the boundaries of what most observers previously judged possible, let alone respectable, in American politics. To catalogue the norms he has violated, the traditions he has traduced or trampled, and the rules—written and unwritten—that he has either cunningly sidestepped or audaciously blown to smithereens would require volumes. Love him or loath him, Trump operates apart from history.
"Yet if Trump defies history, paradoxically, he has also resurfaced questions that historians have long debated, including some that many considered settled for many years. In this sense, Trump hasn't just defied history; he has changed it—and he has changed the way that we think about it, forcing us to look back on our past with a new lens.
"This Politico Magazine series, to be published in three installments over the next few weeks, will look at three historical debates that simmered on low heat for years, until the historic presidential election of November 2016 brought them back to a boil. These debates are foundational. They concern race and identity. National character. The dark side of populism. They drive at the core meaning of American citizenship. …