1950-1952
The end of World War II ushered in the advent of regular television programming. It was not the overnight sensation that many would imagine. The DuMont Television Network launched what Newsweek called "the country's first permanent commercial television network" on August 15, 1946, connecting New York City with Washington, DC. NBC launched what its promotional people called "the world's first regularly operating television network" on June 27, 1947. It ran evening programming in New York, Philadelphia, Schenectady and the District of Columbia. NBC added Baltimore and Boston later that year.
DuMont and NBC were joined by CBS and ABC in 1948. But it wasn't until 1951 that a coast-to-coast network using a microwave radio relay system established television broadcasting more or less as we know it today. Parallel to the emergence of the networks, a forgotten treasure of local programming prevailed, crafted by local technicians.
Either way, it was only a matter of time before the small screen would give movies a run for their money — quite literally (see related story, Page 42). No new invention had entered American homes faster than black-and-white television sets; by 1955 half of all US homes had one.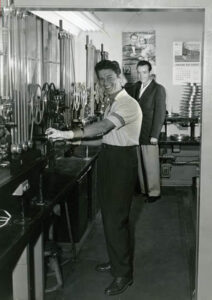 During this period, television was either live or recorded on kinescopes, which were film cameras attached to live television feeds, synchronized to the monitor's scanning rate. Kinescopes were the only way to record live TV broadcasts. Many of these recordings were distributed to stations not connected to the network, or to stations that wanted to show a program at a different time than the live network broadcast. Although the quality was not as good as the live source, television programs of all types from prestigious dramas to regular news shows were broadcast this way.
With the booming new medium of television, many new jobs opened up. Membership in the local doubled. The IATSE competed vigorously to capture and represent these new jobs.
Efforts to organize in television were acknowledged in 1950, as the Editors Guild approved representation of those working in television studios, as well as independent films and commercials. In January 1951, the Guild obtained bargaining rights at ABC Television and at CBS two years later.
Retired Guild sound editor Sid Lubow remembers the difficulties in the early 1950s. He recalled starting in the business as an assistant editor for CBS editor Don Sykes — choosing editing over a degree he already had in research chemistry from the University of Wisconsin. They edited 16mm prints made from kinescopes. He remembers the popularity of using optical film and scratch tracks rather than straight magnetic film, because the sound modulations were easier to find.
Despite advantages for sound editors who preferred optical sound, the 1950s saw the widespread transition from optical to magnetic sound recording, allowing greater fidelity and refinement in sound editing and mixing. In fact, the Ampex tape recorder and the first multi- track recording device, invented by American musician-inventor Les Paul, taken together marked a technical revolution in the recording industry. These innovations allowed for several layers of recorded material to be combined after they were recorded. Foley recording, named for Jack Donovan Foley at Universal Pictures, was also introduced in the early 1950s.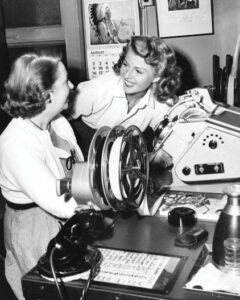 In 1951, acetate film, made from cellulose triacetate, replaced highly flammable nitrate film as the standard for 35mm film production, distribution and film preservation.
The year 1951 also saw the beginning of the honorary society of film editors called the American Cinema Editors (ACE), which was spawned from an original idea of two Paramount Studio film editors, Warren Low and Jack Ogilvie. Members became identified on screen credits with "A.C.E." following their names. The Guild Board approved the use of the honorific initials in March.
In February of 1952, IA workers struck for an hour at ten major television producers, among them: Ziv, Crosby, Wisbar and Screen Televideo. All ten producers signed a contract that gave television technicians the same wages and benefits enjoyed by IA members in feature production and post-production. By the summer of 1952, a full 25 percent of IA members were working in television. On November 7, 1952, "the Plan" — the Motion Picture Health and Welfare Plan — began operating.
1953-1965
Sound editor Loren L. Ryder appeared before the Guild's Board of Directors in 1953 to demonstrate his new magnetic sound transfer machine. There was consider able discussion as to what to do with this new technology and how it would affect Guild members. That year, the Guild had written into its Local Agreement a "substitute substance" clause that guaranteed its jurisdiction over editing sound and picture, no matter what media was used.
The Motion Picture Sound Editors (MPSE) was also founded in 1953, inspired by the suggestion of sound editor Raymond V. Bomba at an Editors Guild Board meeting. The honorary society, like ACE before it, allowed its members to add "MPSE" after their names in credits and brought many editors together to advance the craft and increase their recognition in the industry.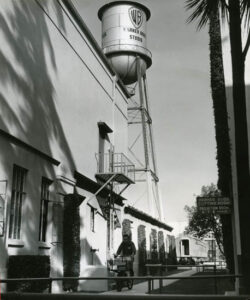 In August of that year, a contract was approved and executed with the KHJ television station in Los Angeles. The following year, a contract was approved with LA's KTTV.
The site of the Guild's current headquarters at 7715 Sunset Boulevard was purchased in 1955. Camera Local 659 (now the International Cinematographers Guild, Local 600) joined as a half partner. Both Guilds moved into the building in 1959, and the Editors Guild held its first Board meeting in the new facility in 1960.
On the programming front, the contentious issue of competition between the small screen and the large screen began to subside in the mid- 1950s when Hollywood studios began producing shows for television, and selling old and even recent movies for broadcast.
The first videotape recorder, invented by Ampex, came into use in 1956. Videotape would allow TV programming to be recorded at a higher level of quality and allow it to be broadcast as often as necessary. In his report to the Guild Board, on May 28, 1956, Technology Committee Chairman and editor Merrill G. White said, "The introduction of videotape will be as revolutionary and as violent as the introduction of sound, though the viewing public will probably not be aware of the change; but we, who are in the motion picture and television business, will all be vitally affected by the invention."
In October of 1956, the Guild Board authorized an agreement between itself, NABET and the CIO over jurisdiction for editorial work at NBC, covering the Film Exchange, Film Service, Newsreel and Kinescope Recording departments.
The Guild's Board of Directors promised the membership, in 1957, to provide a reapportionment of members selected to the Board. Members were previously apportioned by studio. The following year, a plan was instituted to have the Directors elected by classifications, which was approved at a General Membership meeting, and an entire new board was elected.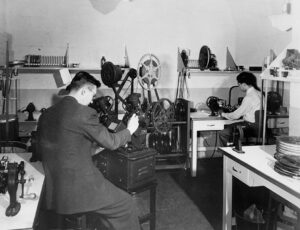 In 1959, a videotape editing course was proposed by the Editors Guild, to be given by the Guild, the Society of Motion Picture Engineers (SMPTE) and a "leading university." Training wouldn't begin in earnest until 1973, with the Guild's purchase of a CMX editing system.
The Writers Guild and Screen Actors Guild staged strikes in 1960, which ironically benefited IA members. The IATSE began a successful campaign to negotiate for residual payments for films shown on television, which had increased since new TV series were not being produced. These funds were soon paid into the pension plans. Also, Guild retirement benefits were first paid out in 1960, at a rate of $90 per month.
The IATSE developed a Videotape Electronics Supplemental Agreement at the end of 1963, negotiated by IA president Richard Walsh and the Alliance of Motion Picture and Television Producers (AMPTP).
The Cinema Audio Society (CAS) was formed in 1964 for the purpose of sharing information with sound professionals in the motion picture and television industry. The society represents mixers in both production and post-production, and their members include the initials "CAS" after their names in film credits.
Regular color television broadcasts began in 1965, although the first national program to be broadcast in color was the Pasadena Tournament of Roses Parade, on January 1, 1954 on NBC.
To be continued…
Compiled by Jeff Burman and Christopher Cooke