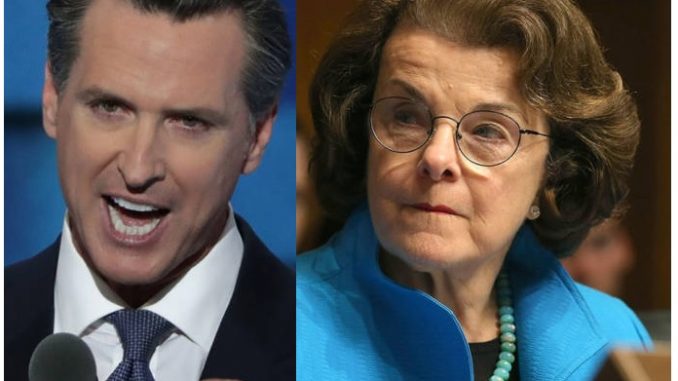 Gavin Newsom and John Cox to Compete in California Election for Governor
Reprinted from The New York Times by Adam Nagourney and Alexander Burns on June 6, 2018.
Gavin Newsom, the Democratic lieutenant governor and former mayor of San Francisco, took a major step Tuesday in his bid to become California's next governor, capturing one of two spots on the November ballot as the state moved closer to the end of the era of Governor Jerry Brown.
John Cox, a Republican businessman backed by President Trump, captured the other spot, setting up what is — at best — a very long-shot bid for Cox in a decidedly Democratic state where Trump lost by nearly four million votes. …
Senator Feinstein Advances to November Election, but Her Opponent is Still to Be Decided
Reprinted from The Los Angeles Times by Sarah Wire on June 6, 2018.
Voters overwhelmingly chose Senator Dianne Feinstein in the California primary Tuesday.
The question remains who Feinstein will face in November, as votes for the other 31 candidates were still being tallied Tuesday.
Primaries in Seven Other States Help Set the Political Battlefield for November
Reprinted from The Los Angeles Times by The Associated Press on June 5, 2018.
No state will play a more significant role in the fight for control of Congress than California. But seven other states also held primaries Tuesday, helping set the political battlefield for the first midterm election of Donald Trump's presidency.
In New Jersey, Mikie Sherrill, a former federal prosecutor and Navy pilot and now the Democratic establishment favorite, bested a field of party rivals in the race to replace retiring Republican Representative Rodney Frelinghuysen. She'll take on GOP Assemblyman Jay Webber in one of several races Democrats view as prime opportunities in their effort to retake the House.
Mississippi Republican Senator Roger Wicker won his primary contest, as did New Jersey Senator Robert Menendez, a Democrat who faced federal bribery charges last year. The jury deadlocked, but Republicans hope to use Menendez's legal troubles to tar Democrats like Sherrill across the state.
Much of the day's drama focused on women, who fought to make history in some cases and to avoid disaster in others. …
After Historic Primary Win in New Mexico, Climate Champion Deb Haaland on Track to Be First Native American Woman in Congress
Reprinted from Common Dreams by Julia Conley on June 6, 2018.
As primary results in dozens of races across the nation came in on Wednesday, climate action and immigrant rights groups were among those celebrating former New Mexico Democratic Party leader Deb Haaland's victory in the primary for the state's 1st congressional district.
"Deb Haaland's primary win is a historic victory for the climate movement," said May Boeve, executive director of 350 Action, in a statement. "Deb is the type of climate leader we've yet to see on Capitol Hill. She is inspiring people everywhere with her unapologetic progressive platform to stand up for Indigenous rights and keep fossil fuels in the ground. We need leadership like Deb's in Congress to move us toward a fossil-free world that works for all of us." …