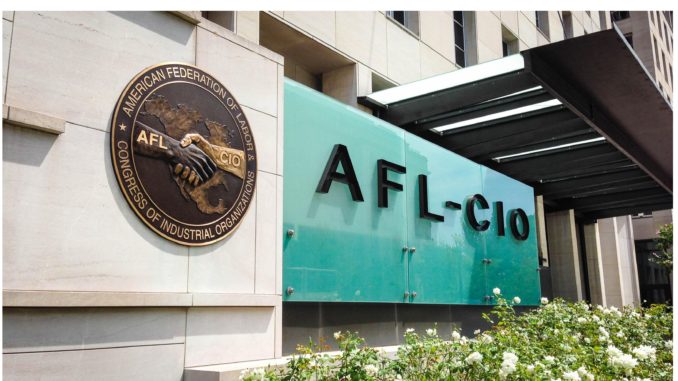 Reprinted from The Hill by Alex Gangitano on February 6, 2020.
The House on February 6, approved legislation aimed to protect workers' rights to unionize.
The Protecting the Right to Organize Act (PRO Act) was approved in a 224-193 vote. The bill, said to be one of the most comprehensive labor packages put forth in years, is not expected to move in the Republican Senate.
Republicans Representatives Brian Fitzpatrick (Pennsylvania), Chris Smith (New Jersey), John Katko (New York), Don Young (Alaska), and Jefferson Van Drew (New Jersey), a former Democrat who switched parties last month, voted for the bill. …
Newsweek: Thanks to Working People, All the Leading Democratic Candidates are Backing Powerful Labor Reform
Reprinted from Newsweek by Mary Kay Henry on February 11, 2020.
"…When it comes to increasing the power of workers in our economy and society and reforming our broken system of labor laws, the perceived divide between moderate and progressive Democratic presidential candidates falls away," writes Mary Kay Henry in Newsweek.
"The four leading candidates in the Democratic primary have released the most ambitious labor and economic reform proposals we've seen in a generation. Senator Bernie Sanders' plan would completely overhaul our broken labor law. Senator Elizabeth Warren's would empower workers to organize millions at a time. Mayor Pete Buttigieg is campaigning on sectoral bargaining, which would allow workers to organize across industries. And Vice President Joe Biden publicly declared in December, 'We should unionize McDonald's.'
"All four front-runners have committed to raise wages, make it easier to join unions and tackle challenges around health care, racial injustice, immigration and climate change. They've stood on strike lines from Massachusetts to Missouri to California and called out corporations like McDonald's for failing to protect workers and pay a living wage. They know the candidate who champions the working people of America will be this country's next president.
"Candidates' labor plans are strong because workers from all different industries and backgrounds, black, brown, Asian-Pacific Islander and white, have joined together and demanded it. Workers in fast food, health care, education, the gig economy and more have been highly engaged in this election, pushing candidates at every turn to call out corporations, release ambitious economic plans and mobilize toward a 2020 victory. …
House Passes 'Protecting the Right to Organize' Act, a Major Victory for IATSE Workers
Reprinted from the IATSE's site on February 7, 2020.
In a major victory for IATSE members and working people across the United States, the House of Representatives on Thursday passed H.R. 2474, the Protecting the Right to Organize (PRO) Act on a bipartisan basis.
The PRO Act will restore fairness to the economy by strengthening the federal laws that give workers a voice on the job so they can negotiate for higher wages, better benefits, a more secure retirement and a safer workplace. Making the PRO Act into law is a cornerstone of the 2020 IATSE Federal Issue Agenda. The IATSE applauds the House of Representatives for passing this groundbreaking, pro-worker bill.
"Make no mistake, this is the most significant step Congress has taken to strengthen labor laws in the United States in 85 years and a win for workers everywhere," said AFL-CIO President Richard Trumka.
Hundreds of IATSE members from across the country stepped up and called their Representatives to voice support for this critical legislation. Our voices were heard and the country is better for it. …
'Victory for Workers!': House Praised for Passing Landmark PRO Act to Strengthen Unions and Labor Rights
Reprinted from Common Dreams by Jessica Corbett on February 7, 2020.
Union leaders and labor rights advocates applauded the Democrat-controlled US House for passing landmark legislation Thursday night that supporters have called one of the most notable efforts to expand workers' rights in several decades.
House lawmakers voted mostly along party lines to approve the Protecting the Right to Organize (PRO) Act (H.R.2474), which passed 224–194 with 12 members not voting. See the roll call vote here.
"This is a watershed moment for the labor movement and shows what working people can accomplish when we come together to demand a voice on the job and a seat at the table," said Lee Saunders, president of AFSCME, the nation's largest trade union of public employees. …
Pro-Union Bill Draws 2020 Battle Lines
Reprinted from The Hill by Alex Gangitano on February 5, 2020.
Democrats and their labor allies are gearing up for a 2020 fight against business groups over legislation to protect workers' rights to unionize.
The Democratic-controlled House is voting Thursday on the Protecting the Right to Organize Act (PRO Act). The bill is dead on arrival in the Republican Senate, but it's seen as a critical messaging bill for Democrats and union groups looking to bring their supporters to the polls. And the bill is also mobilizing business groups who have railed against the measure as a wish list for Big Labor.
The bill would make it easier for workers to certify unions, change how employers classify workers, prevent workers from being denied rights because of immigration status, eliminate state right-to-work laws and block laws that protect employees from not paying union dues, among other measures. …
House Education and Labor Committee fact sheet