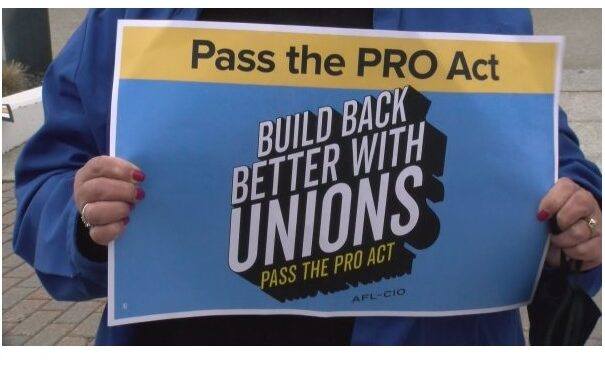 Reprinted from Common Dreams by Andrea Germanos on May 1, 2021.
A coalition of over 40 progressive organizations on Saturday rallied online and in person to support the PRO Act—legislation that would strengthen workers' right to organize among other pro-worker provisions.
Groups behind the May Day actions include MoveOn, Indivisible, Democratic Socialists of America, and the Working Families Party.
The Protecting the Right to Organize (PRO) Act passed the House in March but has not yet faced a vote in the upper chamber, where it confronts the 60-vote legislative filibuster and no support from three Democrats—Senators Kyrsten Sinema (Arizona), Mark Kelly (Arizona), and Mark Warner (Virginia).  …