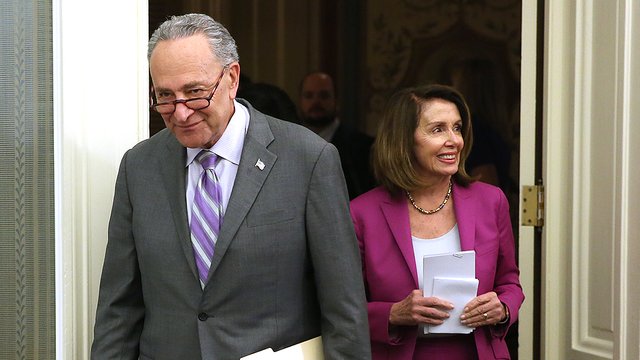 Reprinted from The Washington Post by Elise Viebeck, David Fahrenthold and Scott Clement on November 6, 2018.
Democratic challengers have unseated Republicans in at least 14 closely watched House races, moving the party closer to its long-sought goal of recapturing control of the House, according to projections based on exit polls and early returns from Tuesday's midterm elections.
Republicans, however, will retain control of the US Senate — and may even increase their majority, after winning closely-fought races in Indiana, North Dakota, Tennessee and Texas.
Democrats won races in several Republican-held seats, in states from Florida to Kansas. That moved them closer to taking the House majority for the first time since 2011, when the "tea party" wave swamped Democrats in President Barack Obama's first midterm elections.
In victory, Democrats regained some of the confidence — although less of the power — they lost in 2016, when Trump won a surprise victory over Hillary Clinton. In this election, they sought to energize groups that Clinton did not: young voters, Latinos, African Americans and infrequent voters. …
Democrats Retake the Majority in the House After Modest Gains Across the Country
Reprinted from Think Progress by Adam Peck on November 6, 2018.
Shortly after 11pm EST, networks called a slew of House races on the west coast as well as several outstanding races across the country, ensuring that Democrats will retake the majority in the House of Representatives when the 116th Congress is gaveled into session on January 3.
All major networks have now projected that Democrats will regain control of the House.
"Tomorrow will be a new day in America," said Representative Nancy Pelosi (D-California), currently the minority leader in the House, during a victory speech shortly after 11:30 pm.
The Democratic Party needed a net gain of 23 seats in order to retake the House, and with several dozen races still left to be decided, the question now becomes how large their majority will be. Most estimates put the Democratic majority at roughly 25 seats. …
Los Angeles Times: Results from the 2018 Midterm Elections
… Millions of Californians cast their ballot to determine the state's next governor and senator, along with a slew of statewide propositions and local races. Here's what's happened in the state last night. …