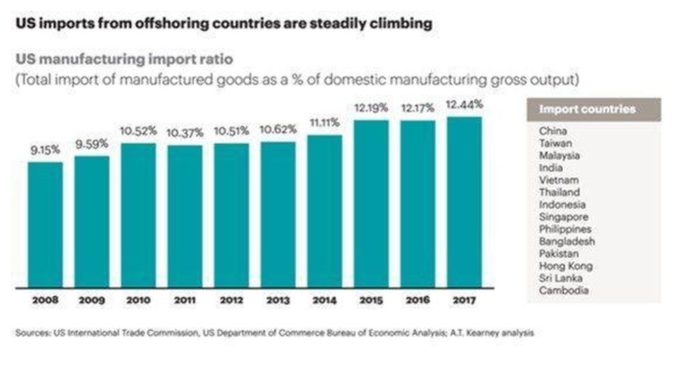 Reprinted from The Wall Street Journal by Jennifer Smith on July 10, 2019.
American trade policies aimed in part at returning factory work to the US appear instead to be accelerating a shift in production from China to Vietnam and other low-cost nations, according to a report released Wednesday.
Despite escalating tariffs between the US and China, American imports of manufactured goods from China and 13 other Asian countries rose 9% in 2018 to $816 billion, the largest annual increase in nearly a decade and outpacing a 6% increase in domestic manufacturing gross output, according to consulting firm A.T. Kearney Inc.
The firm said its annual index measuring the ratio of U.S. imports of Asian-made goods as a percentage of domestic manufacturing output reached 13.1% in 2018, up from 12.7% in 2017 and the highest A.T. Kearney has found in the past 10 years.
"The trade war has not supported reshoring," said Johan Gott, a principal at A.T. Kearney and a co-author of the report. …