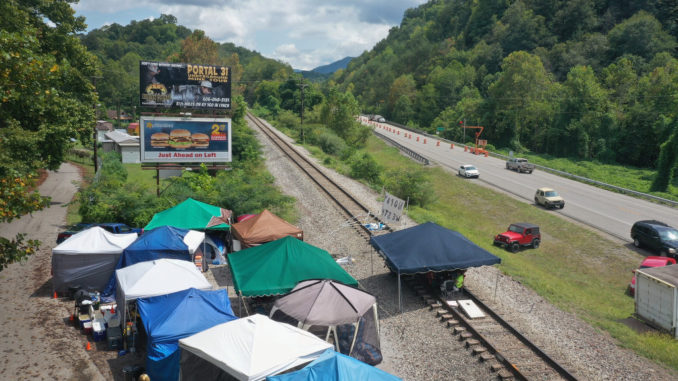 Reprinted from Rolling Stone by Sydney Boles on September 3, 2019.
It's quiet in the morning. The remains of a campfire smoulder beside the railroad; fog hangs low in narrow valleys people here call hollers; a bedsheet strung between the poles of an overturned tent flutters in the breeze. The bedsheet reads, "NO PAY WE STAY."
It's day 38 of a nonviolent blockade of a Harlan County, Kentucky railroad track. During the occupation, union miners have stood with non-union miners, transgender anarchists have built solidarity with Trump-voting Republicans, and a 100-year-old labor movement has found a new generation of working-class leaders fighting to keep the region's wealth where it came from: in workers' hands and in the foggy hollers of central Appalachia.
On July 1st, the nation's sixth-largest coal company, Blackjewel LLC, declared bankruptcy without warning, leaving 1,700 employees out of work. Coal miners' June 28th paychecks bounced, leaving many workers thousands of dollars in debt. Their final paychecks, which ought to have come on July 12th, never came.
Blackjewel miner Shane Smith, 29, learned he was out of work the day after the birth of his sixth child. "This is what fed our kids," he says. "This has ruined us." …