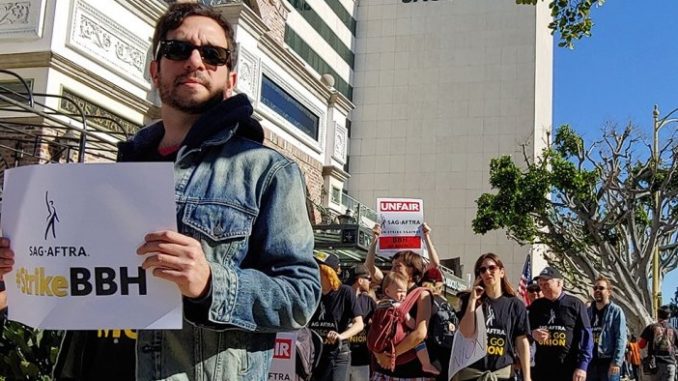 Reprinted from Deadline Hollywood by David Robb on January 22, 2019.
SAG-AFTRA members rallied Wednesday at the La Brea Tar Pits in a show of unity for the union's four-month-old strike against Bartle Bogle Hegarty. Members met at the union's headquarters in Los Angeles at noon and then marched to the nearby Tar Pits to hear speakers denounce the struck ad agency.
The strike is part of the union's Ads Go Union campaign to organize non-union commercials. SAG-AFTRA also is gearing up for negotiations for a new commercials contract, which generates more than $1 billion in annual wages for its members.
SAG-AFTRA president Gabrielle Carteris, national executive director David White and Los Angeles Local president Jane Austin led the rally. Reps from other labor organizations who were expected to attend include Steve Dayan, secretary-treasurer of Teamsters Local 399; Rusty Hicks, president of the LA County Federation of Labor; John Acosta, president of Musicians Local 47; Tom Davis, second international VP of IATSE, and Kevin James, president of the Board of Public Works and the city's chief film liaison. …
Nearly 1,000 Denounce Ad Agency BBH at SAG-AFTRA Rally: 'Shame on You'
Reprinted from The Hollywood Reporter by Jonathan Handel on January 23, 2019.
A crowd of nearly 1,000 and a slate of fiery speakers on Wednesday marched to the La Brea Tar Pits in Los Angeles to denounce advertising agency Bartle Bogle Hegarty over the firm's decision to abandon the SAG-AFTRA commercials contract and go non-union after about 20 years as a signatory.
The union says that move is legally impermissible, and as a result has been on strike against BBH since September 20.
"We say back up and back off," said the usually placid David White, SAG-AFTRA's national executive director. Addressing BBH directly, he added, "You think you're coming for us? We're coming for you." …