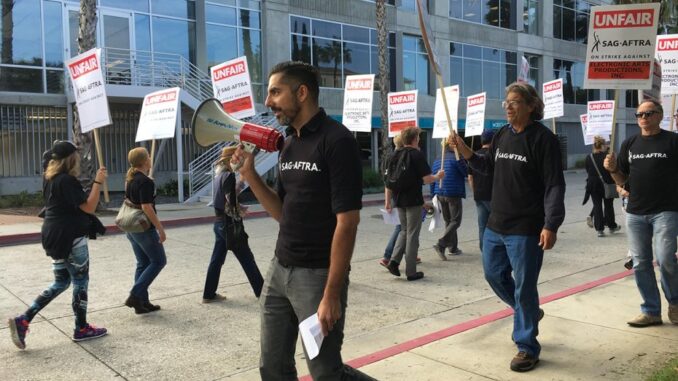 Reprinted from Deadline Hollywood by David Robb on September 26, 2017.
SAG-AFTRA and the major video game companies have reached a tentative agreement to end the longest strike in the union's history. Up until this walkout, SAG's 2000 commercial strike, which lasted 183 days, had been the longest.
The new deal, which must still be approved by the union's board of directors, calls for "bonus pay" based on the number of sessions a performer works on each game, beginning with a $75 payment on the first session and capping out at $2,100 after 10 sessions worked.
It's not quite the type of residuals system the union stuck for 340 days ago, but it's close enough. SAG-AFTRA had been seeking a back-end payments schedule that would have given performers a full-day's pay for each 500,000 units sold, up to four secondary payments if the game sells 2 million units. …
Keythe Farley, chair of the SAG-AFTRA Interactive Negotiating Committee, said the strike delivered key victories for member performers in the video game community.
"The bonus payments we have now are significantly larger now than what we had 11 months ago," he said. "And the existence of additional payments beyond your session fee is in the video game world for good, both in our high-budget and independent promulgated agreements. Those are the victories that this strike has brought us."
Ray Rodriguez, the union's chief contracts officer who was the lead negotiator on the new contract, said that the deal also includes significant improvements in the area of transparency.
"The new transparency provisions will enhance the bargaining power of our members' representatives by requiring the companies to disclose the code name of project, its genre, whether the game is based on previously published intellectual property and whether the performer is reprising a prior role," he said. "Members are also protected by the disclosure of whether they will be required to use unusual terminology, profanity or racial slurs, whether there will be content of a sexual or violent nature and whether stunts will be required." …
Deadline Hollywood 9/26