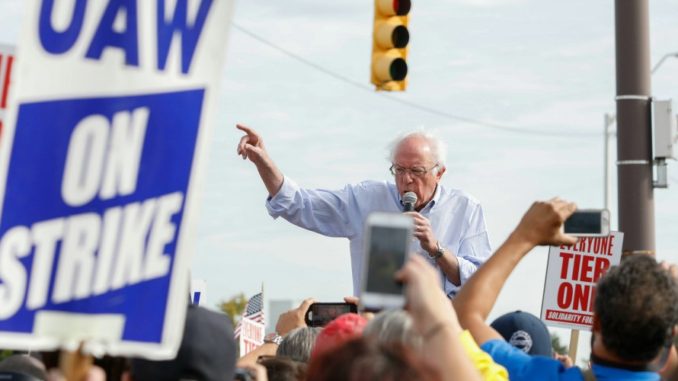 Reprinted from Common Dreams by Jake Johnson on October 14, 2019.
Taking aim at the vast inequities produced by America's business-dominated economic system, Senator Bernie Sanders on Monday unveiled a far-reaching proposal that would roll back President Donald Trump's tax cuts and transfer more power to US workers by giving them seats on corporate boards and ownership shares in their companies.
"The establishment tells us there is no alternative to unfettered capitalism, that this is how the system and globalization work and there's no turning back. They are dead wrong," Sanders, a 2020 Democratic presidential candidates, writes on his website. "The truth is that we can and we must develop new economic models to create jobs and increase wages and productivity across America."
"Instead of giving huge tax breaks to large corporations that ship our jobs to China and other low-wage countries, we need to give workers an ownership stake in the companies they work for, a say in the decision-making process that impacts their lives, and a fair share of the profits that their work makes possible in the first place," said the Vermont senator. …
Sanders Distinguishes Himself from Warren by Noting that She has Said 'I Am a Capitalist to My Bones'
Reprinted from Common Dreams by Jessica Corbett on October 13, 2019.
White House hopeful Senator Bernie Sanders distinguished himself from Senator Elizabeth Warren—another top competitor in the Democratic presidential primary—by highlighting their different beliefs on economic policy during an interview with ABC News chief White House correspondent Jonathan Karl that aired Sunday.
After ABC's Karl suggested that Sanders (I-Vermont) and Warren (D-Massachusetts) have "pretty close to identical positions" on major issues, Sanders said that "Elizabeth Warren has been a friend of mine for some 25 years and I think she is a very, very good senator, but there are differences between Elizabeth and myself. Elizabeth, I think, as you know, has said that she is a capitalist [to] her bones. I'm not."
Sanders, a democratic socialist, went on to detail his concerns about "the situation today that we face in this country." Specifically, he called out major pharmaceutical companies for price fixing as well as the fossil fuel industry for profiting off of "destroying the planet." The senator, a champion of Medicare for All, also pointed out that the United States fails to guarantee healthcare to all people in the country, unlike other developed nations. …