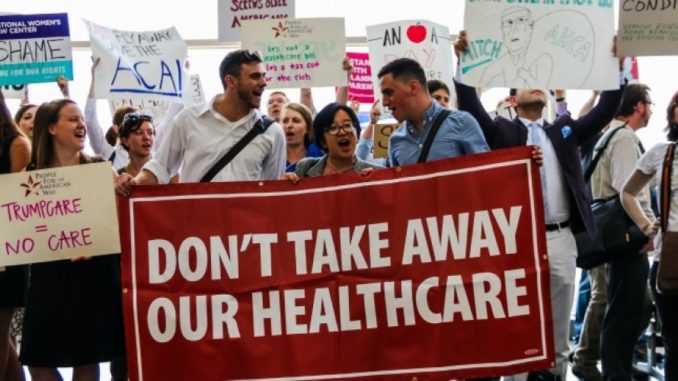 Reprinted from Common Dreams by Jake Johnson on October 30, 2018.
"As Republicans fervently work to distort their contemptible anti-healthcare record and pose as defenders of Americans with preexisting conditions with just seven days to go before the midterm elections, Senator Bernie Sanders (I-Vermont) argued on Monday that the GOP's efforts to take healthcare from tens of millions of Americans must be highlighted 'every hour of every day' until November 6," writes Jake Johnson for Common Dreams.
"'It should be repeated every hour of every day until Election Day that Donald Trump and the Republican leadership in Congress made throwing 32 million Americans off of health insurance their number one priority in Washington,' Sanders wrote on Twitter, referring to the Republican Party's failed attempt last year to repeal the Affordable Care Act (ACA) and replace it with a plan that would have added tens of millions to the ranks of the uninsured.
"The GOP's Obamacare repeal effort was thwarted by a massive grassroots uprising led by disability rights activists and progressive organizations representing millions of Americans, but Trump and Republican leaders have made clear in recent days that the ACA as well as Medicare, Medicaid, and Social Security will be on the chopping block following next month's midterm elections. …