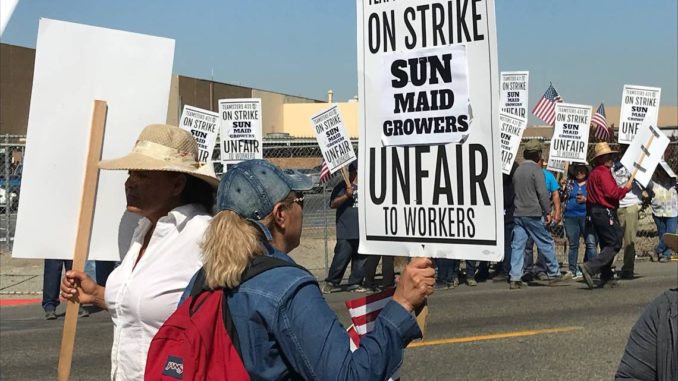 Reprinted from Labor Notes by Joshua Kob on November 2, 2018.
Teamsters who package and process raisins for Sun-Maid succeeded in "raisin" their wages with a two-week strike in September.
Sun-Maid, the largest raisin processing company in the world, keeps its headquarters in the small city of Kingsburg, California, just 20 miles south of Fresno. At the factory, workers represented by Teamsters Local 431 work on and coordinate assembly lines that receive, process, inspect, package, and ship raisins throughout the world.
New CEO Harry Overly, who had been on the job less than a year, didn't know who he was dealing with. Overly met most of them for the first time last spring at an all-staff meeting where he complained about how much the employees cost the company. In light of this disrespect, stalled negotiations, and Sun-Maid's unwillingness to offer a fair proposal, the union's bargaining team reluctantly brought a tentative agreement to the membership.
Not surprisingly, the workers overwhelmingly rejected the pact and voted to go on strike. And strike they did, 500 strong, for 16 long days. …