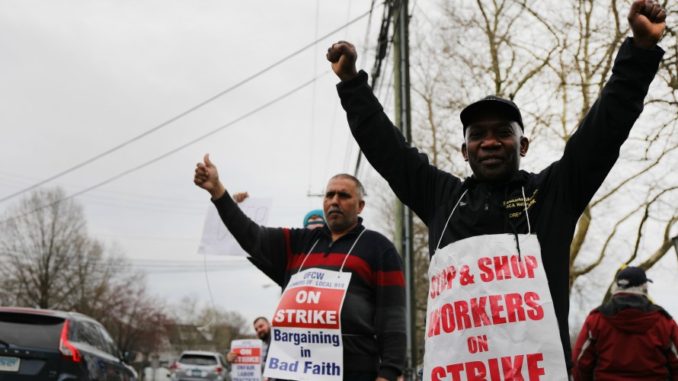 Reprinted from The New York Times by Sandra Garcia on April 22, 2019.
After more than three months of negotiations and 11 days on strike, over 30,000 Stop & Shop workers have reached a tentative agreement with the supermarket chain that they said met their demands for better pay and health care coverage.
The employees, members of the United Food and Commercial Workers International Union at more than 240 Stop & Shops across Connecticut, Massachusetts and Rhode Island, returned to work on Monday morning after reaching the deal on Sunday.
Details of the proposed three-year agreement will not be made public until the 31,000 union members across five locals ratify the contract. Voting will begin this week. …
A previous three-year contract expired on February 23, and workers had protested what they considered cuts in the new contract to health care, take-home pay and other benefits. Stop & Shop continued negotiations with the union throughout the strike. …
'When Workers Fight, Workers Win': Union Declares Victory as Stop & Shop Strike Ends with Deal to Raise Wages
Reprinted from Common Dreams by Jake Johnson on April 22, 2019.
The union representing tens of thousands of striking Stop & Shop workers declared victory Sunday after it reached a tentative agreement with management to increase wages and preserve employee benefits that were under threat.
"Today is a powerful victory for the 31,000 hardworking men and women of Stop & Shop who courageously stood up to fight for what all New Englanders want—good jobs, affordable healthcare, a better wage, and to be treated right by the company they made a success," the United Food and Commercial Workers (UFCW) said in a statement.
The deal brings to an end the largest private-sector strike in years, which lasted 11 days and spanned three New England states. The walk-out began as a protest against Stop & Shop's effort to slash benefits and increase employees' healthcare costs. …
The agreement came as the strike's major impact on Stop & Shop operations was becoming more evident by the day.
As the Boston Globe reported, "visits to the grocery chain by regular customers dropped by a whopping 75 percent" in the first few days of the walk-out. …