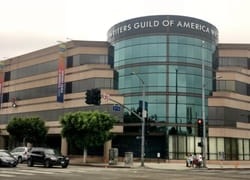 Reprinted from Deadline Hollywood by David Robb on May 12, 2017.
The WGA made no major gains in its new film and TV contract regarding diversity, which the guild has been pushing for years. "There was a proposal related to diversity on the table," an industry source said, "but the guild did not get it."
The union did, however, receive additional funding for its training program for episodic TV writers, which is geared toward improving the lot of women and minority writers. Under the new deal, CBS, ABC and NBC will now be kicking in a total of $250,000 a year for the program in each of the three years of the contract – up from $200,000 a year under the previous contract.
The new 69-page memorandum of agreement can be seen here, in full, for the first time. Membership ratification of the new pact began today and will conclude May 24.
In its 2016 report, the WGA West found that women made up only 29% of the TV writers; that female film writers earned only 68 cents for every dollar earned by their white male counterparts; and that only 7% of films, and 13% of TV shows, were written by minorities. …