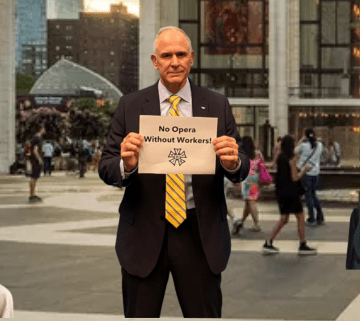 Reprinted from The New York City Central Labor Council site by its staff on June 25, 2021.
In recent weeks, hundreds of members and allies of the International Alliance of Theatrical Stage Employees, the union representing the Metropolitan Opera's stagehands and skilled craftspeople, gathered in person in front of Lincoln Center to protest the opera company locking out its workers. Now, the union is taking the fight online with the images of hundreds more in a first-of-its-kind interactive virtual picket line.
Taking part in this electronic demonstration, which can be seen at MetOperaPicketLine.com, are stagehands, costumer and wardrobe employees, lighting designers and technicians, set designers and craftsmen, make-up artists, broadcast technicians and ticket sellers, along with other supporters, including many opera fans.
Once photos of supporters are uploaded, they are scrolled in front of an image of Lincoln Center, home of the famed opera company. This was set up to be as easy as possible for anyone to participate in. Head to the site, submit a photo and you're on the line. It's that simple. …